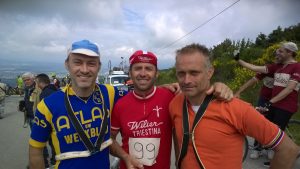 As an avid cycling enthusiast, I found a love for vintage retro racing bikes a few years ago. After a ride on my very first racing bike, I was unstoppable and since then I have started collecting vintage bicycles and vintage bicycle accessories.
The site vintagefiets.be is therefore intended for all lovers of vintage or retro bicycles with a special preference for steel bikes.
Op de site vind je maar een kleine greep uit het rijke verleden van het wielrennen, de ontelbare fietsonderdelen en merken die ooit bestonden en nog steeds bestaan. Stelselmatig komen er artikelen bij waardoor er steeds meer informatie bijkomt. Wil je ook je steentje bijdragen stuur dan gerust een mailtje.
Op vintagefiets.be vindt je verder nog informatie met betrekking tot vintage cycling races and trips in Belgium and the Netherlands but also abroad and especially in Italy because you have the most there
On the site you always have a calendar of the most important vintage bike markets in Europe and a page with usefull links
If you want us to insert a vintage market or race then you can send us a mail .
Insert your bike to our database
Do you have a vintage bike and you want to share it with other vintage lovers then you can add it to our database.Therefore you can use the document add bike to database.Just answer the questions and add some pictures and send it to our mail
Please add detailed pictures (medium size)
Enjoy the website