The Alan featured in this article is believed to date from the late 1970s and is a Competizione model. After all, everything points to this when we look at the characteristics that can be deduced from the figures below.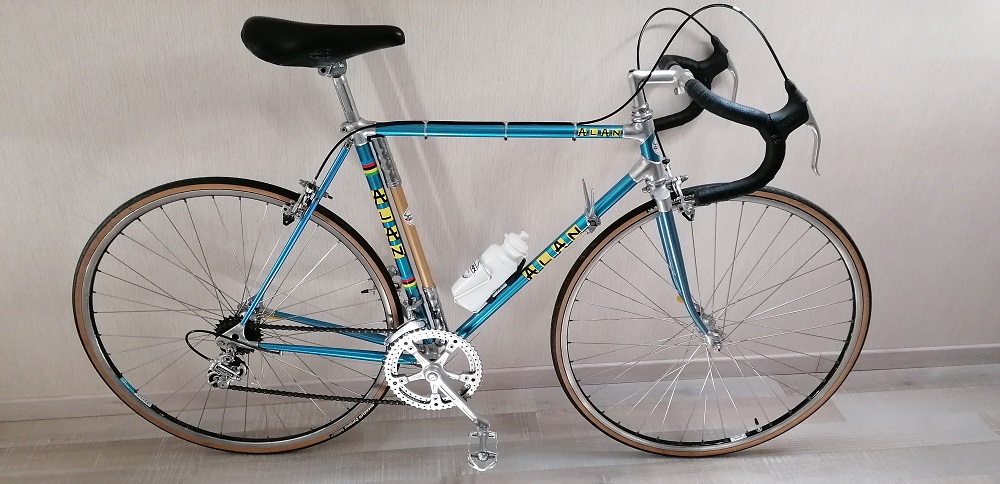 Decals: used between 1976 and mid 80's
seatlug: used between 1972 and 1986
Front fork: used between 1972 and 1977
patten: used from 1972 on by the first 2 models
bottombracket: used from 1972 on until ?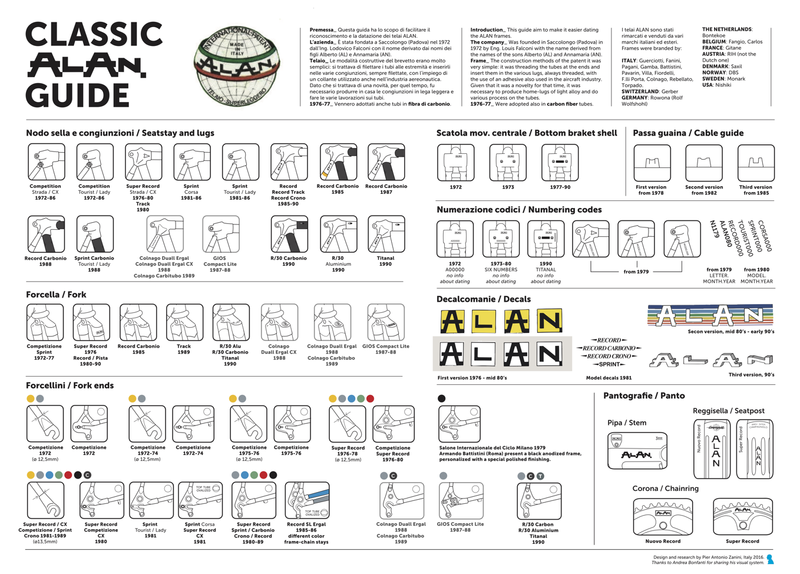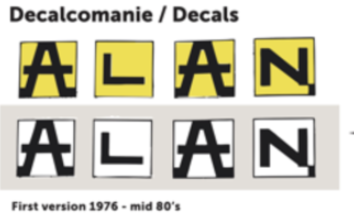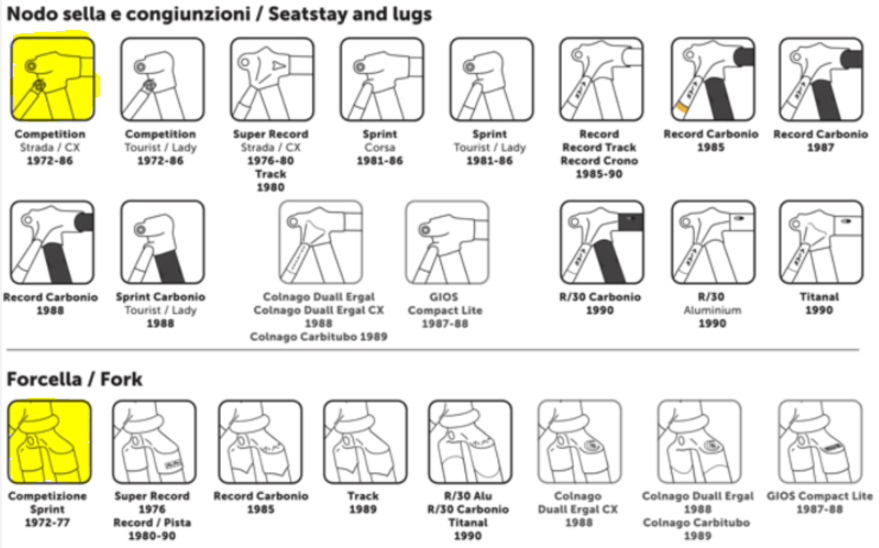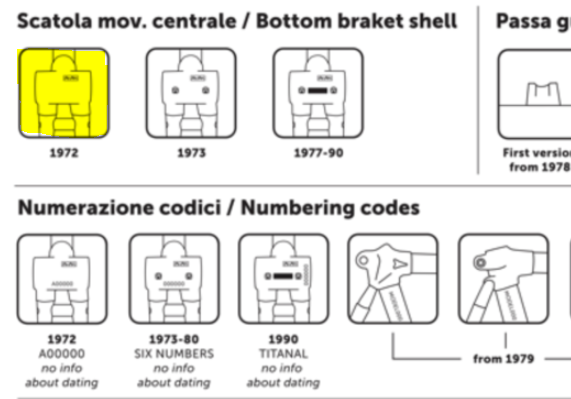 In the cycling archive I also found some teams from the late 1970s that drove an Alan Competizione with the same decals.
History of Alan
For those who are not familiar with the Alan bicycles: Alan was founded in 1972 by the Italian engineer Lodovico Falcone who previously worked at the Italian company Torpado. Alan frames are revolutionary because they were the first frames made entirely of aluminum: both the lugs and the tubes.
Because aluminum could not yet be welded in the early days of Alan, the tubes were provided with a screw thread that was turned into the lugs and additionally secured by means of glue. (more about the history of Alan Bicycles)
The fragile point with Alan frames are the lugs that can crack and show small cracks.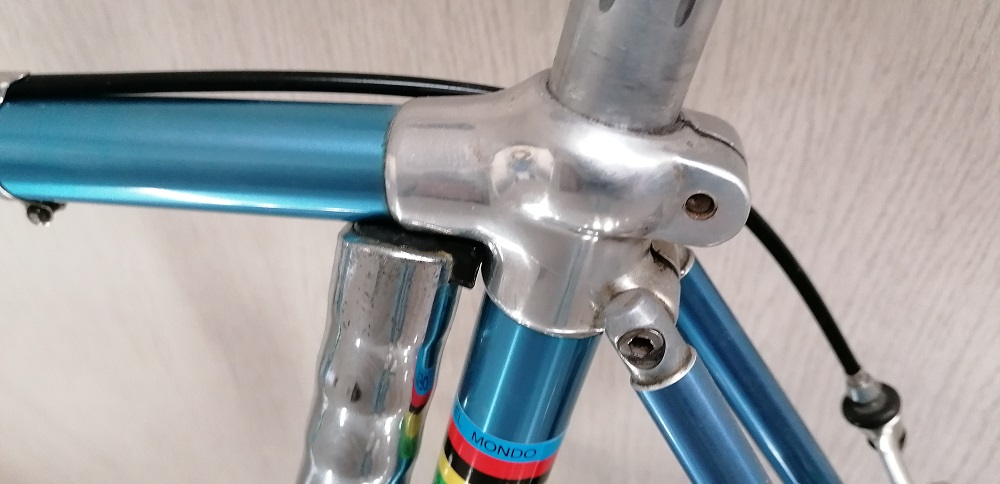 The Alan discussed here is still in near perfect condition: without cracks and almost without scratches.
The Alan Competizione
The Alan Competizione featured here belonged to a retiree who had the bike in his attic for over 30 years. He had always meticulously maintained the bike and it shows. There is a good chance that the parts that are on it are the original ones.
After all, the Suntour Cyclone rear derailleur was released in 1976, the Dia Compe brakes in the mid 1970s, the Gipiemme Strada bottom bracket, idem. But of course there is no certainty about that.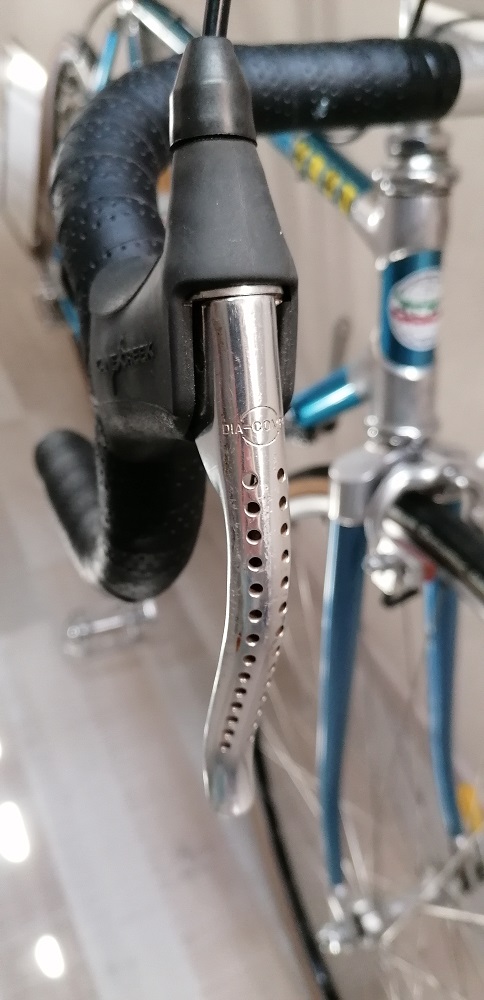 Below you can see the list of all parts
Handlebar: 3ttt Modello Competizione
Stem: 3ttt
Brake calipers Dia Compe – Gran compe
Brake levers Diacompe
Front derailleur: Campagnolo Nuovo Gran Sport
Rear derailleur: Suntour Cyclone
bottom bracket: Gipiemme Special Strada
Saddle: Arius Special
Seatpost: 3ttt
Pedals Dual Sprint
Rims: Ambrosio 19 Extra Super Elite
Hubs Maillard
Headset ???
Levers Campagnolo Nuovo Gran Sport
Below you can find some more photos