A few years before the legendary duels between Gino Bartali and Fausto Coppi that every self-respecting cycling enthusiast knows, there were 2 other Italians who won everything and dominated the 1920s: Costante Girardengo and Alfredo Binda.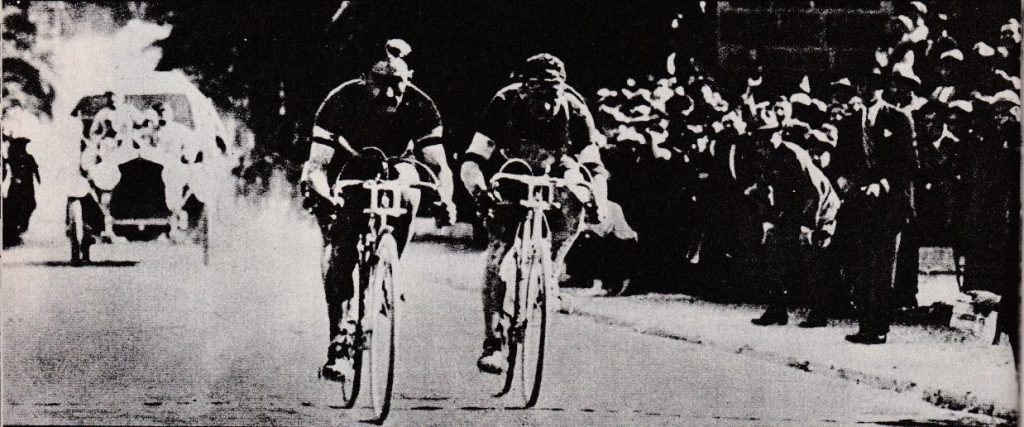 Girardengo (born 1893) and Binda (born 1902) also competed against each other in a few races but spent most of their careers apart. After all, there was an age difference of 9 years between the 2 and Binda can therefore be seen more as the successor to Girardengo. In addition to the 2nd half of the 10s, Girardengo also dominated the 1st half of the 20s and Binda dominated the 2nd half.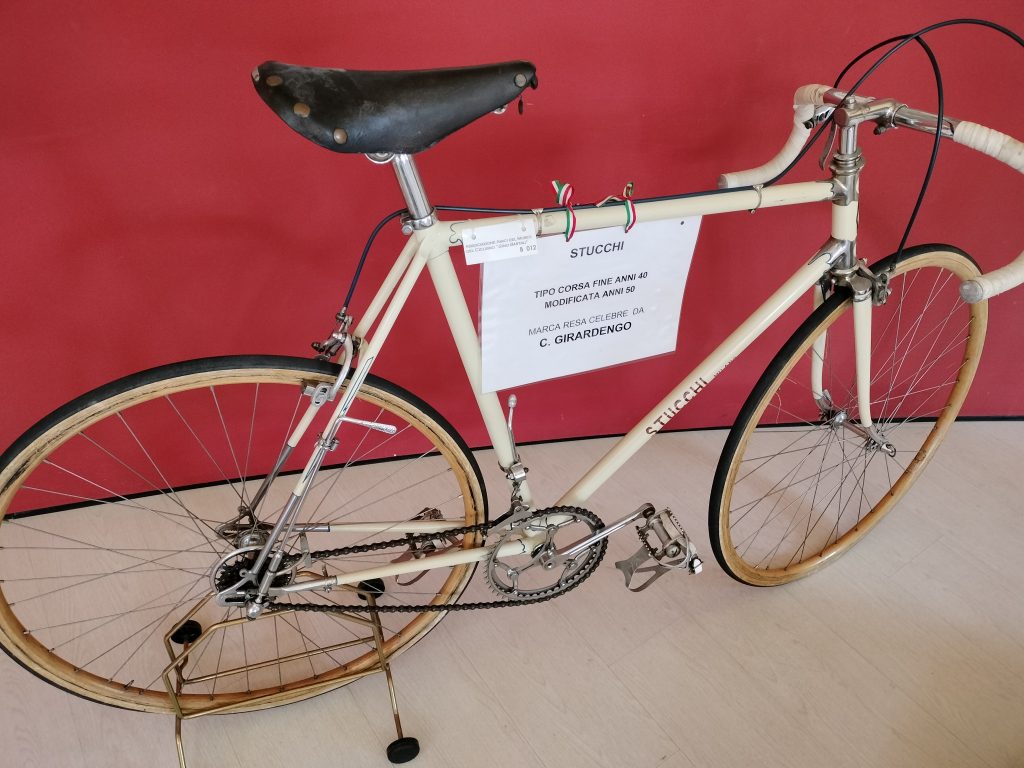 If Girardengo's career had not been interrupted by the 1st World War, his honors list would undoubtedly have looked even better. In 1936 he hung up the bicycle after a career of 43 years.
The 1st time Binda on Mont Chauve
The first time we heard speaking of Binda was in 1923 during the Nice – Mont Chauve competition, a climbing competition on the French coast. The big favorite was Girardengo, the best Italian rider of the moment with a Giro d'Italia, 2 times Milan Sanremo and 2 times the Tour of Lombardy on his palmares.
Not Girardengo but young Binda was the first to cross the top of Mont Chauve, a feat that frightened his opponents because the way he drove them out of the wheel was impressive. Moreover, Binda was only 21 years young.
The irony of the matter is that it was Girardengo who invited Binda to compete in Italy and thereby put an end to his monopoly.
Gira and Il Trombettiere di Cittiglio
Soon nicknamed Gira, Girardengo was known as a true fighter who was never shy about attacking or chasing. Binda, nicknamed Il Trombettiere di Cittiglio (the trumpet player of Cittiglio because he played a trumpet in his spare time), was known for his elegance and pure talent.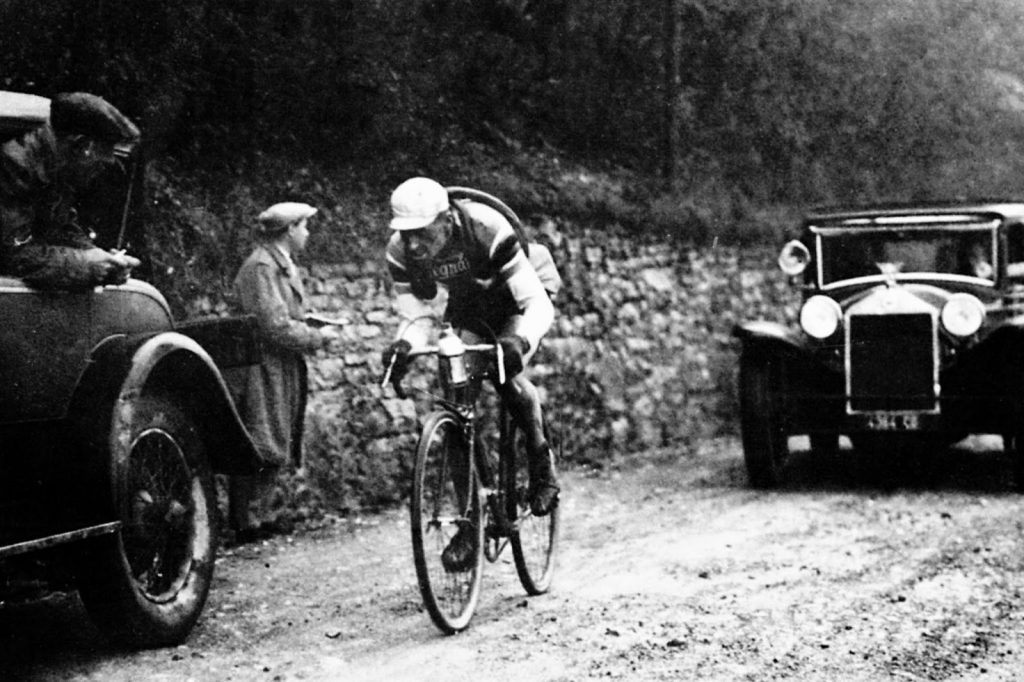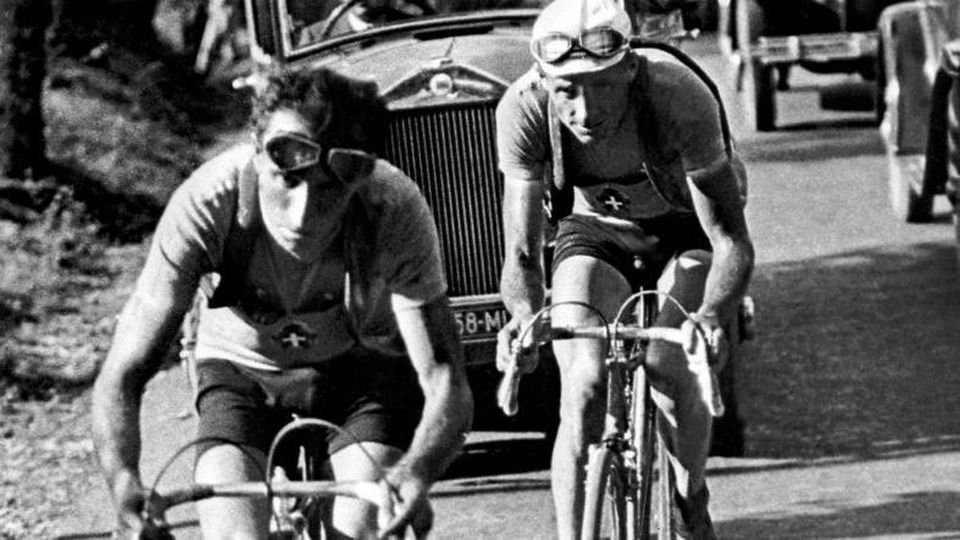 The most beautiful battle that both fought was during the Giro d'Italia of 1925 where Binda finished 1st and Girardengo 2nd. Girardengo won no less than 6 stages and Binda only 1, but the overall victory.
There was no real friendship between Girardengo and Binda, they respected each other but nothing more. This is evidenced by the only race they ever rode together as a couple, the 6 hours of Vélo d'Hiver in Paris. They won the race and during the victory lap they each drove along one side of the track, without a smile or a word, not even a handshake.
Even after their careers, they crossed paths again. Girardengo became owner and sporting director of a professional team and Binda became technical commissioner of the Italian National team with Bartali and Coppi.
Most important victories Girardengo and Binda
Costante Girardengo
2 times Giro d'Italia: 1919 and 1923
30 stages in the Giro d'Italia
9 times Italian champion: 1913, 1914, 1919 – 1925)
6 times Milaan Sanremo: 1918, 1921, 1923, 1925, 1926, 1935
3 times the Tour of Lombardy: 1919, 1921, 1922
5 times Milan – Turin: 1914, 1915, 1919, 1920, 1923
Alfredo Binda
5 times Giro d'Italia: 1925, 1927, 1928, 1929, 1933
41 stages in the Giro d'Italia
2 stages in the Tour de France
3-time world champion: 1927, 1930, 1932
4 times Italian champion: 1926 – 1929
4 times the Tour of Lombardy: 1925, 1926, 1927, 1931
2 times Milaan Sanremo: 1929, 1931