Perhaps the best-known group among enthusiasts of vintage steel road bikes is Campagnolo Nuovo Record. It was therefore produced the longest: from 1967 to 1987, a period of no less than 20 years.
The Nuovo Record is the new Record (nuovo is new in Italian) and thus the successor of the Record, the first group ever marketed by Campagnolo in 1958.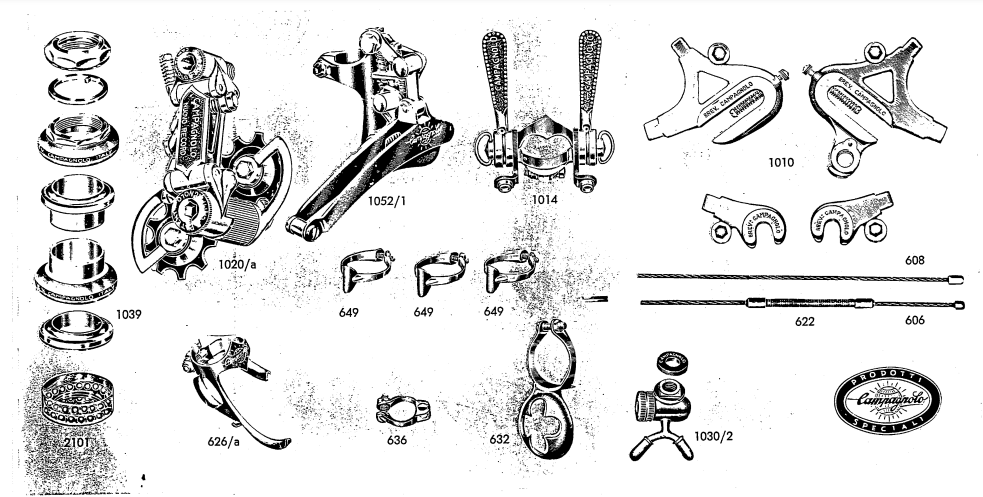 The Nuovo Record first appeared in catalog n°15 of 1967 and is of course an improved version of the Record, including the use of the lighter aluminum instead of bronze, a range of 6 rear sprockets, nylon sprockets and the ability to fit a 41 sprocket up front. This was a significant improvement over the old days when 46/49 or 47/52 sprockets were common.
The group consisted of the crankset, bottom bracket, calipers and grips, pedals, headset, gear levers, front and rear derailleur, seat post and wheel hubs. There were also options available such as a pump holder and a cable guide. end piece for bicycle pump, cable clamps.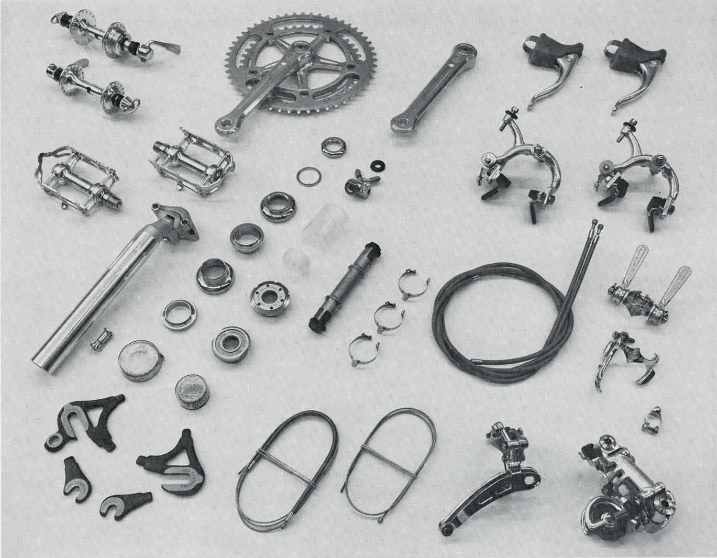 Small adjustments over the years to the Campagnolo Nuovo Record group
Since the Nuovo Record group was produced for no less than 20 years, it is logical that small variations were made in that long period and one speaks of 1st generation, 2nd generation, …
You can read the difference between the different parts below:
Brake levers the variations are in the location of the logo, the material of the body (metal or plastic), the curvature of the grips, the entrance of the brake cable and the rubbers.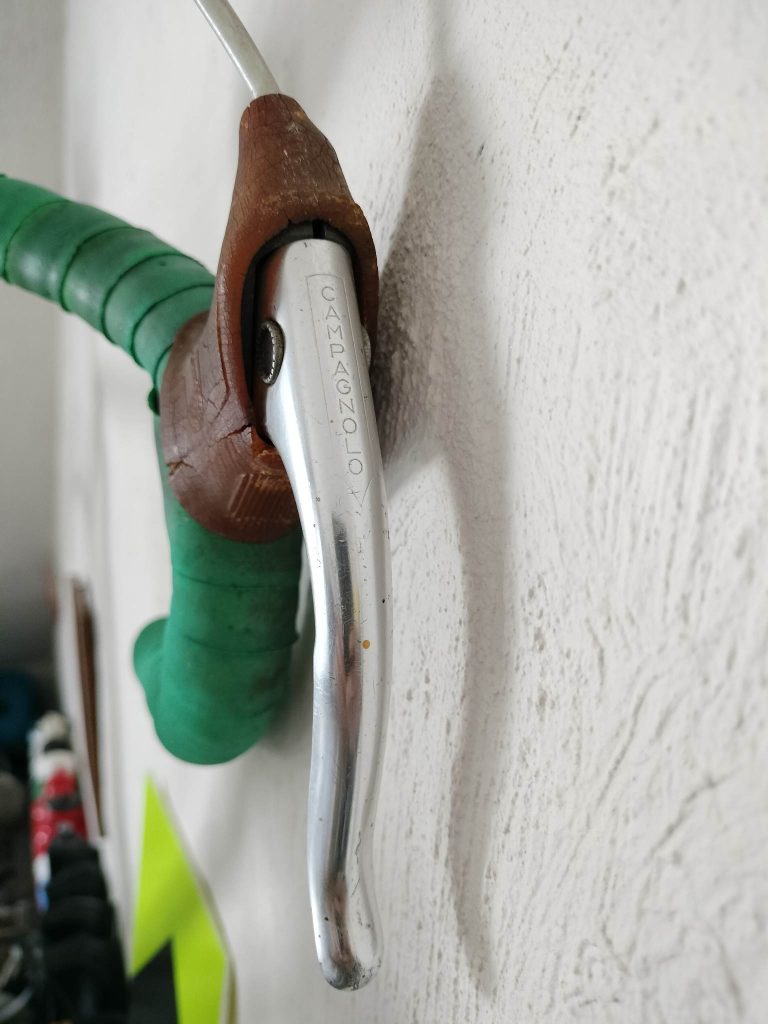 A nice overview of the different generations of brake levers can be found in the article nuovo record brake levers from le cycleur.
Brake calipers the difference is in the adjusting screw on the right hoof, which is made of rubber from 1978 and in the cable release, which is no longer flat but spherical from 1978, whereby the logo has also been replaced by the letter c in a diamond.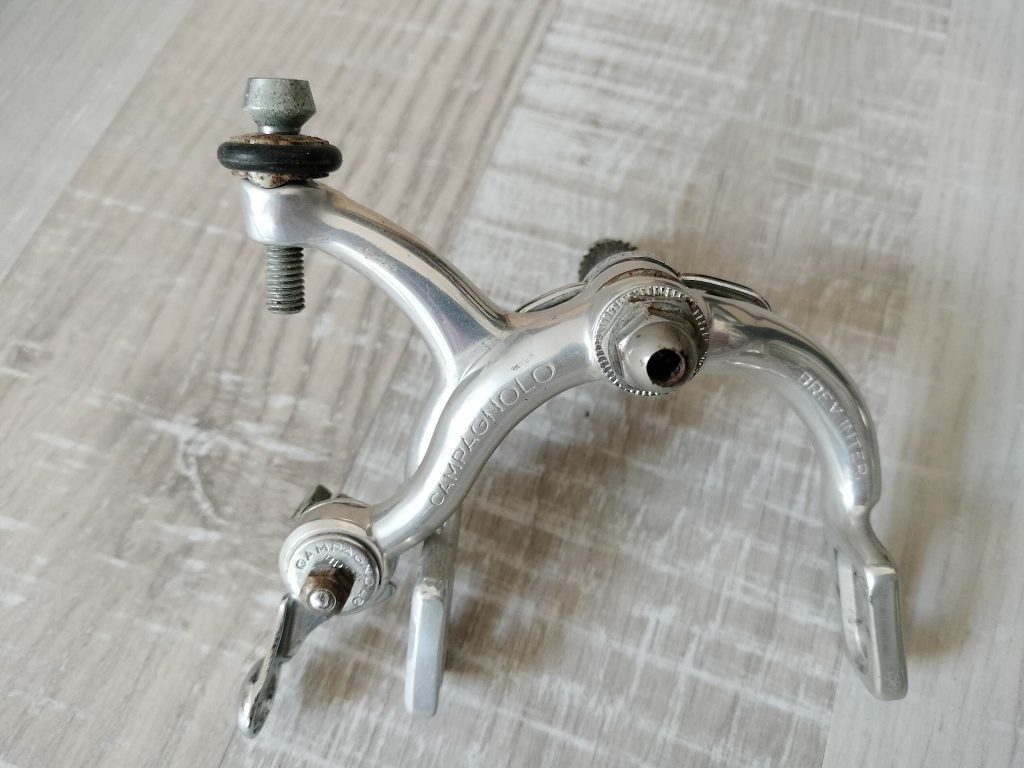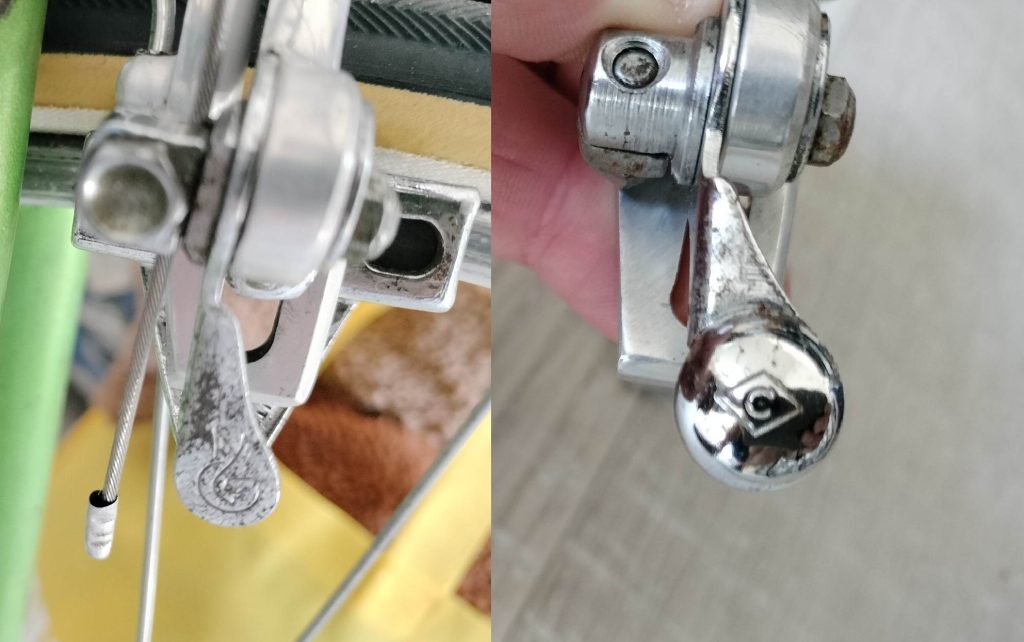 Levers with the 1st generation(s) these were still attached to the frame by means of a bracket, with the later generations on the welded lugs. Ditto for the cable guides of brake and gear cables.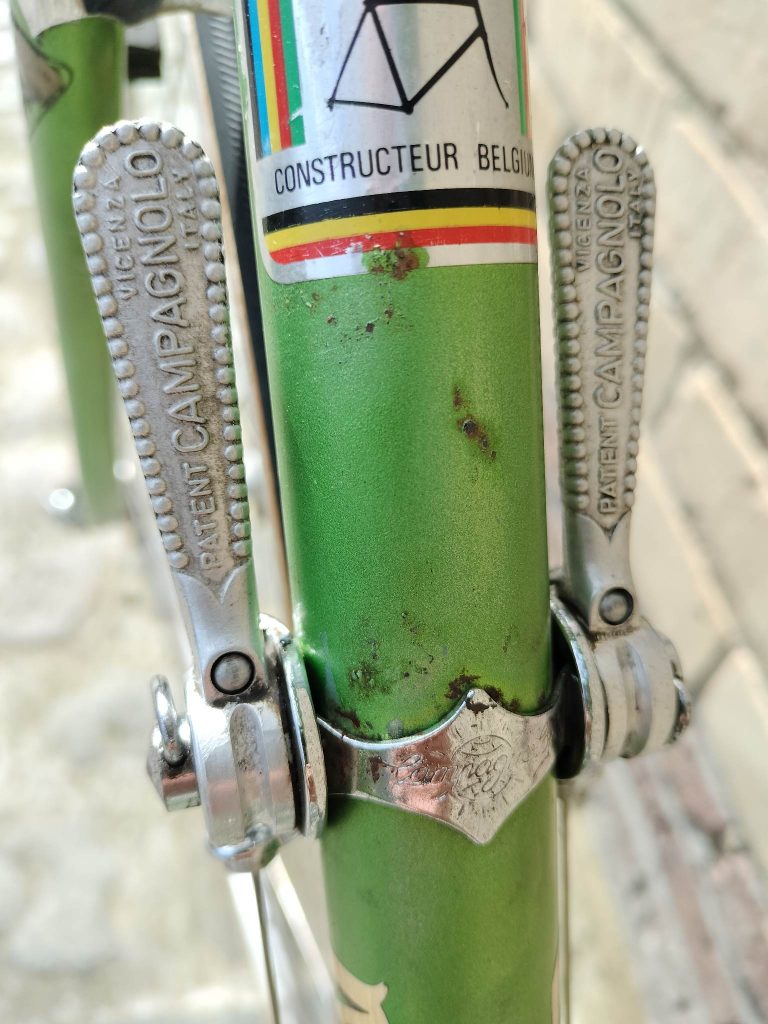 Frontderailleur: with the first generation(s) no holes were made in the front plate, from 1978 4 holes and from 1982 only 3 holes. The version without clamping bracket is available from 1987.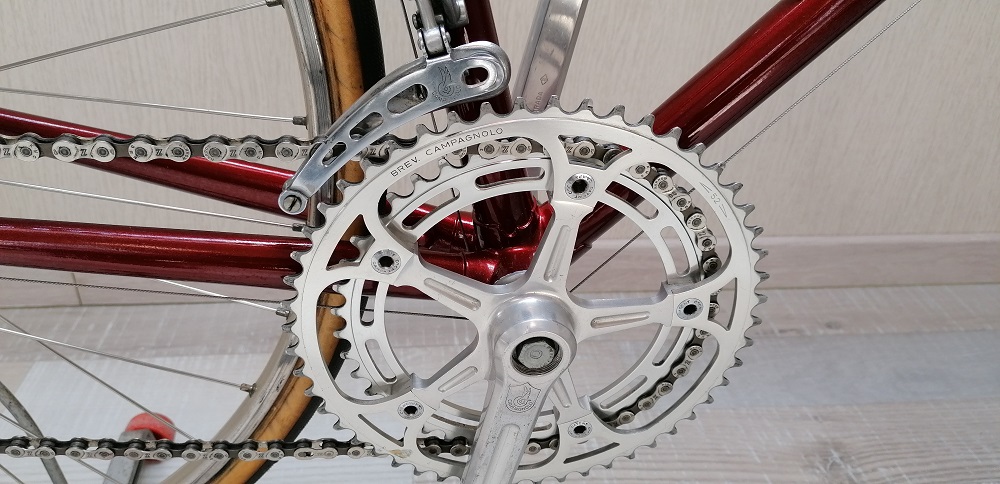 Hubs: The logo remains on the hubs, but from 1974 the word RECORD is added. The quick releases of the hubs are straight in the 1st versions, but curved from 1978 onwards.
Seatpost: the first seatposts were flat while later these had small short notches (from when is not clear to me). The first also had no indication to where the saddle could protrude maximum.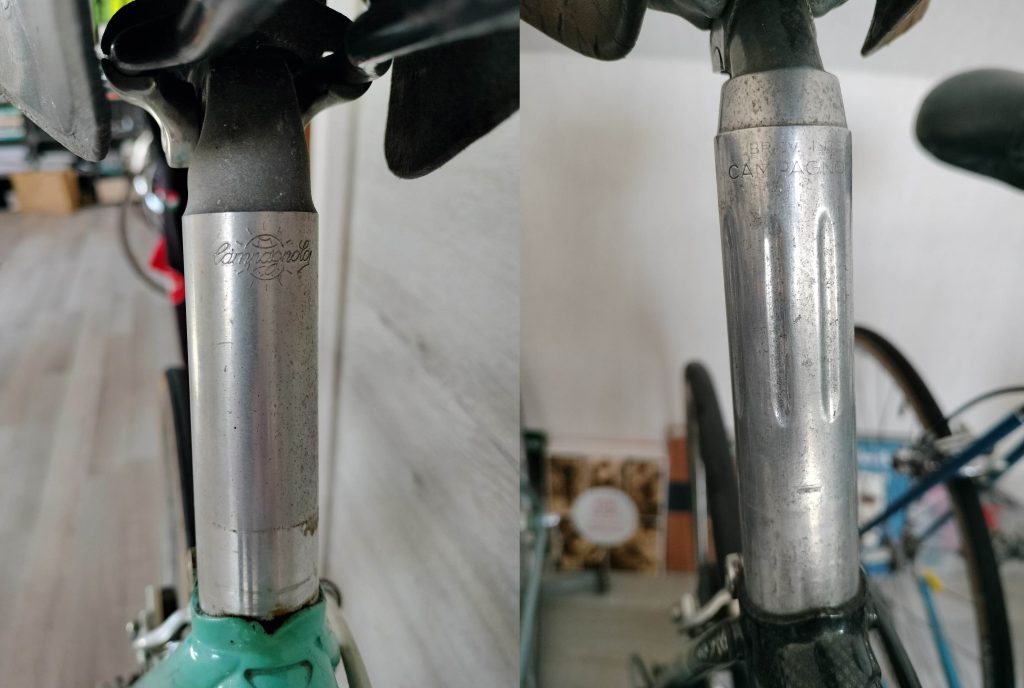 Cranks en headset: both have undergone only very minor changes which are negligible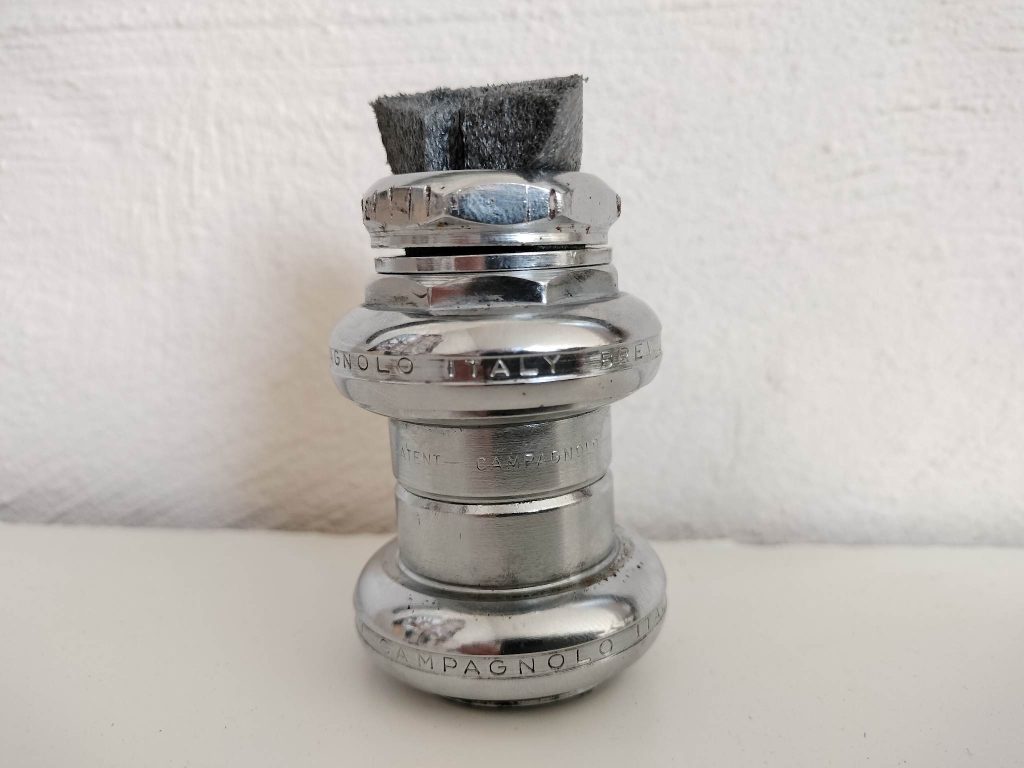 Campagnolo Nuovo Record group dating
You can recognize the date of the group by the date on the rear derailleur.
Up to and including 1969 there was no date on it,
Between 1970 and 1979 the inscription PATENT with date, for example PATENT-77.
From 1980 to 1985, the wording PATENT was abbreviated to PAT followed by the date
From 1985 to 1987 it had PATENT 11 on it