A bicycle that you do not encounter every day is undoubtedly this golden Eddy Merckx Corsa Extra. Ernesto Colnago once built a gold Colnago Mexico for Pope John Paul in 1979 and recently he did it again for his 87th birthday (a Colnago Arabesque) but the story with this beautiful gold Eddy Merckx from the 1980s is different.
In the 80s and 90s of the last century there was the Golden Bicycle Eddy Merckx competition for newcomers in which 30 selection competitions (later 10?) were held, starting at the Eddy Merckx factory in St-Brixius-Rode and arriving in the center of Wolvertem (Groot Meise), residence of Eddy Merckx. The 5 best from each selection match were allowed to participate in the final.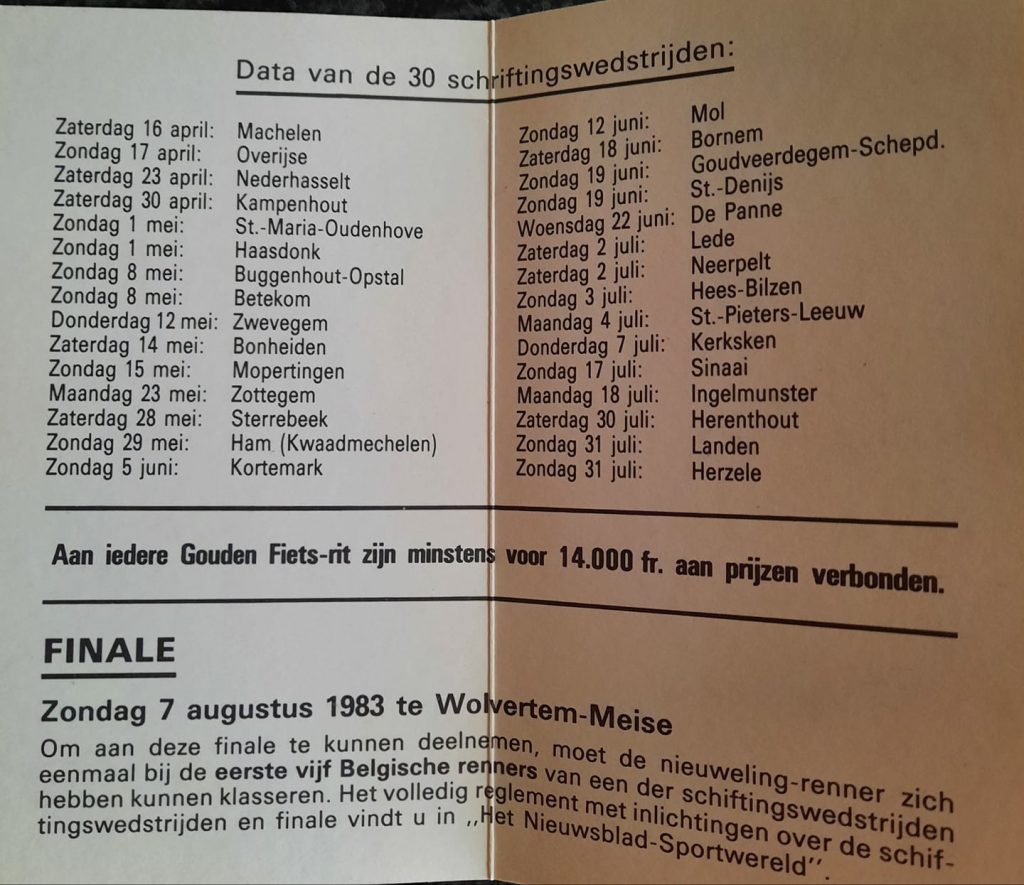 The winner received a custom-made golden Eddy Merckx bicycle from the cannibal himself. In 1983 this golden bicycle was worth €75,000 BEF. The 2nd and 3rd in the final also received an Eddy Merckx racing bike worth €55,000 BEF and €40,000 BEF respectively.
Not every winner chose the golden Eddy Merckx bicycle. Some preferred to ride a less conspicuous bicycle and chose another racing bicycle from the Eddy Merckx range. A youngster of 16 years did not immediately think that the bicycle could ever become a collector's item and chose a quality bicycle with which he could ride competitions.
The competition was organized by the newspaper Het Nieuwsblad – Sportwereld in collaboration with Lotto and racing bicycles Eddy Merckx. The first edition was in 1980 and the last in 2000 and the competition was, together with the Belgian Championship, the most popular competition for the novices. A recap of the final was even televised.
Just look below at the fragment in the news of VTM from 1991 where even a young Frank Vandenbroucke can be seen in the jersey of the Belgian champion.
Winners of the competition included:
1980: Bruno Geuens
1981: Ronny Vlassaks
1982: Jerry Cooman
1983: Laurenz Beauprez
1984: Luc Heuvelmans
1985: Geert Steelandt
1986: Danny Daelman
1987: Jo Planckaert
1988: René Goossens
1989: Peter Peys
1990: Dimitri Custers
1991: Romeo Hernandez
1992: Cliff Everaerts
1993: Steven Van Malderghem
1994: Davy Wagemans
1995: Stijn Van Straelen
1996: Kevin van der Slagmolen
1997: Wouter Van Mechelen
1998: Wim De Vocht
1999: Cristof Janssens
2000: Mario Ickx
The only newcomers to win both the Belgian Championship and the Golden Bicycle Eddy Merckx in the same year were Luc Heuvelmans and Jo Planckaert, who later became a professional cyclist.
The golden bike was the top of the Eddy Merckx range with the very best components from then including Columbus SLX tubes, Campagnolo Super Record, … The only non-original thing about this bike are the Mavic Cpx 30 wheels that date from the 90s.
View the photos of this gem below