Another bike that I was able to purchase through an Italian friend when I was still living in Italy is this Nilor from a bicycle mechanic from Empoli in Tuscany. Unfortunately I later sold the bike because it was too big for me, which I still very much regret.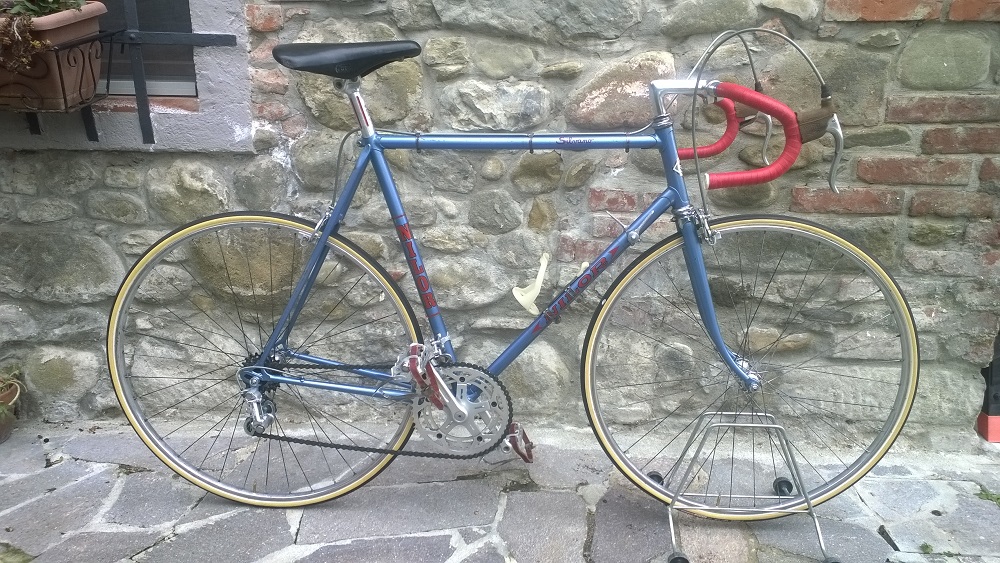 I once took part in the 1st edition of the retro cycling event l'Ardita in and around Arezzo where the climb of the Alpe di Poti is on the program every year: a difficult climb of 8 km on strade bianche (gravel roads) that also in the Giro d'Italia edition 2016 with arrival in Arezzo, had to be climbed. The winner then was Gianluca Brambilla who rode for Etixx-Quick Step.

Nilor was and still is the house brand of the bicycle shop Carpel, founded in 1960 by the brothers Mauro and Nilo Pellegrini. They no longer make frames themselves and they no longer sell racing bikes.
Apparently, the bike belonged to a semi-pro named Silvano, which is reflected on the horizontal top tube. The components are in any case of top quality, the color combination is also impressive.
Brakes: Universal Super 68
Handlebar and stem: 3ttt Modello Grand Prix
Front derailleur and shifters Campagnolo 3500 Nuovo Gran Sport
Zadelpen: 3ttt
Saddle: San Marco
Crankset: Ofmega
Pedals Sheffield Sprint 673
Wheels and hubs: Nisi rims with Campagnolo Nuovo Gran Sport hubs
It can be deduced from the components that the bike probably dates back to the mid-1970s as the Campagnolo 3500 Nuovo Gran Sport was introduced around 1974.