If you are in Berlin and you are a lover or collector of vintage racing bikes, then you should definitely visit Steel Vintage Bikes. Originally they only sold vintage racing bikes when they started in 2012, but in the meantime they have grown into a restaurant - café with associated shop and workshop.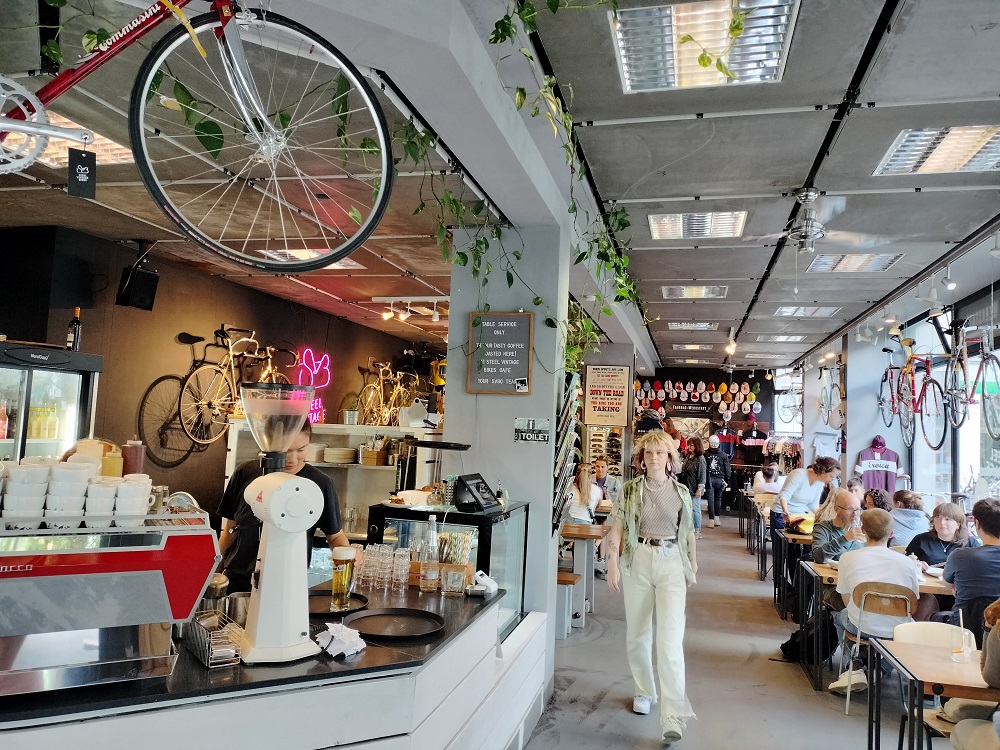 So you can enjoy breakfast, lunch or coffee with cake or pancake (their speciality) amidst the vintage racing bikes, cycling jerseys, cycling caps and accessories. For lovers or collectors of vintage racing bikes, such as myself, mouth watering!
Exceptional bikes with a price tag
The bicycles that are standing or hanging in front of the windows are all gems. Colnago, Bianchi, Wilier, Merckx, Gios Torino, Pinarello, and so on. Same for the parts on it: mainly Campagnolo and Shimano. So quality. You will not find Simplex, Weinmann, Sachs or other cheaper brands there.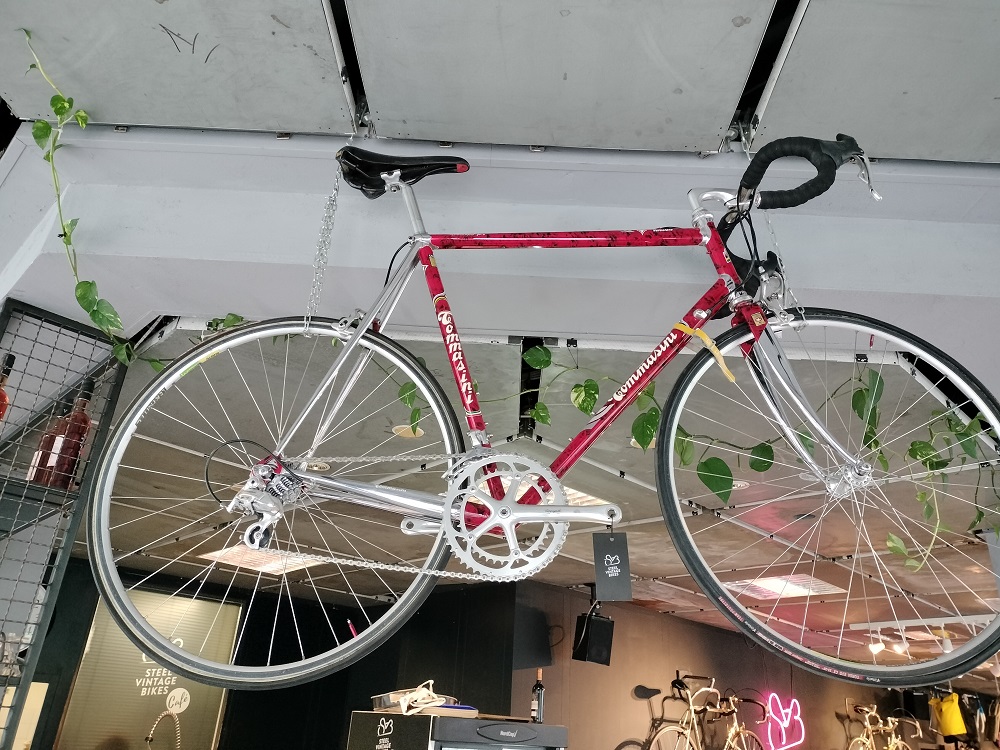 Of course, quality also comes with a price tag and that is perhaps a tad exaggerated. You will not easily find a bicycle under €1000. Steel Vintage Bikes is therefore more of a store for collectors who are willing to pay several thousand euros to add a beautiful example to their collection.
All bicycles shine like no other and have a price tag with the year. Unique examples can also be found there, such as a personal time trial bike from Francesco Moser from 1984. It is not the time trial bike with which he improved Eddy Merckx's hour record, but it is one of his training time trial bikes that he used to prepare for his attempts.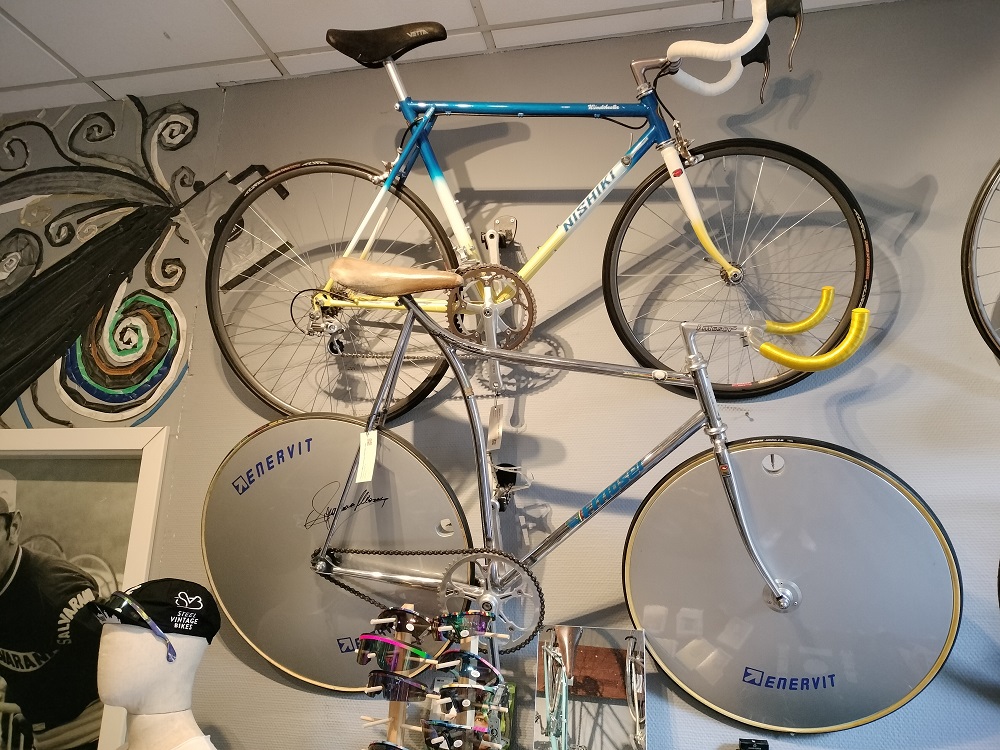 More vintage racing bicycles
In a small room next to the shop there are still plenty of steel vintage racing bikes from all kinds of brands, which are also for sale. Through this room there is a connection with the workshop where all purchased bicycles are treated and where workshops are also held.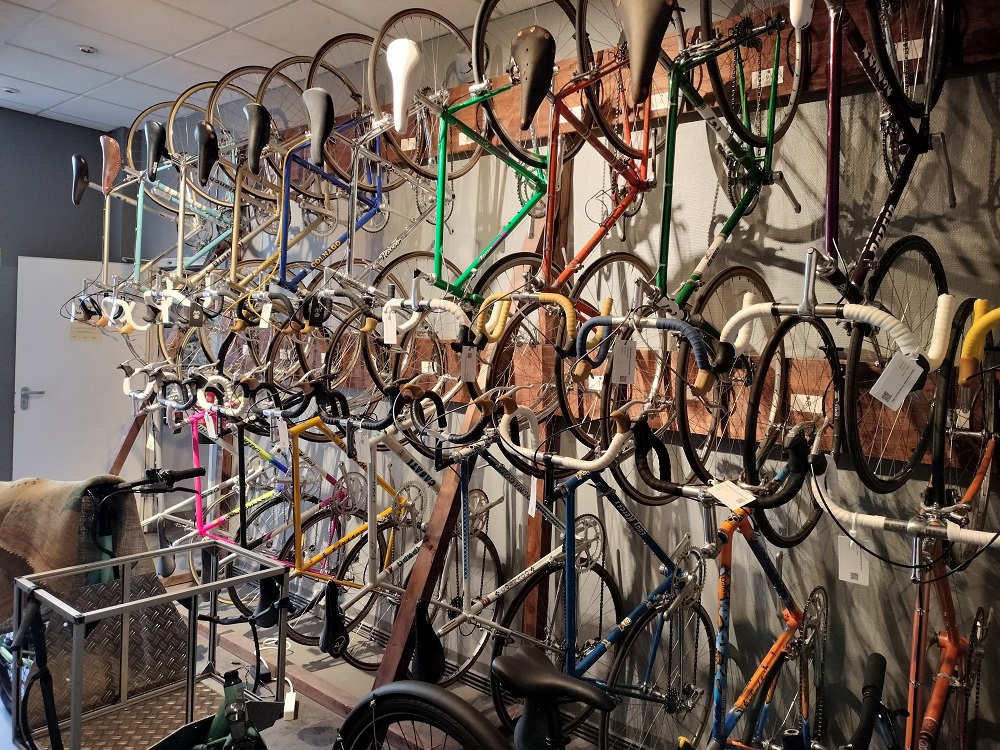 In addition to vintage racing bikes, you can buy all kinds of other things in the shop such as bicycle bags, drinking bottles, racing caps, racing jerseys, racing shoes, racing socks, sweaters and all kinds of souvenirs such as bags, photos and posters.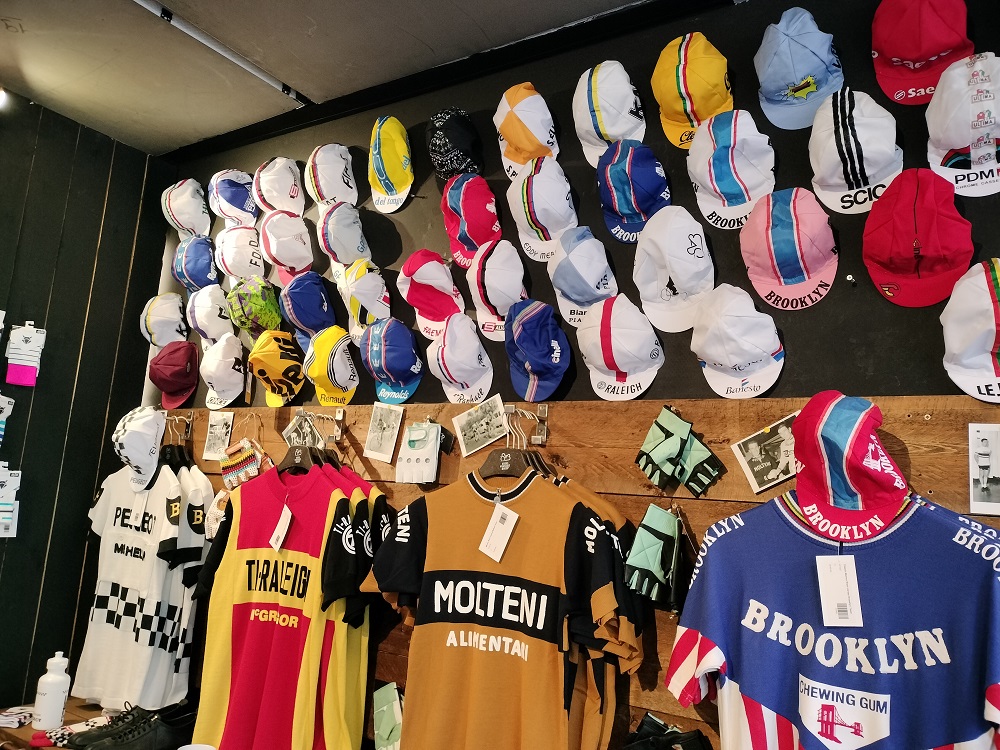 While I was there I was lucky enough to have a small Sunday flea market outside the shop where they sold their parts they no longer needed. Contrary to the rather high prices of their bikes, they sell them for an apple and an egg. Unfortunately I didn't have any bigger luggage with me because otherwise I would have brought a lot more.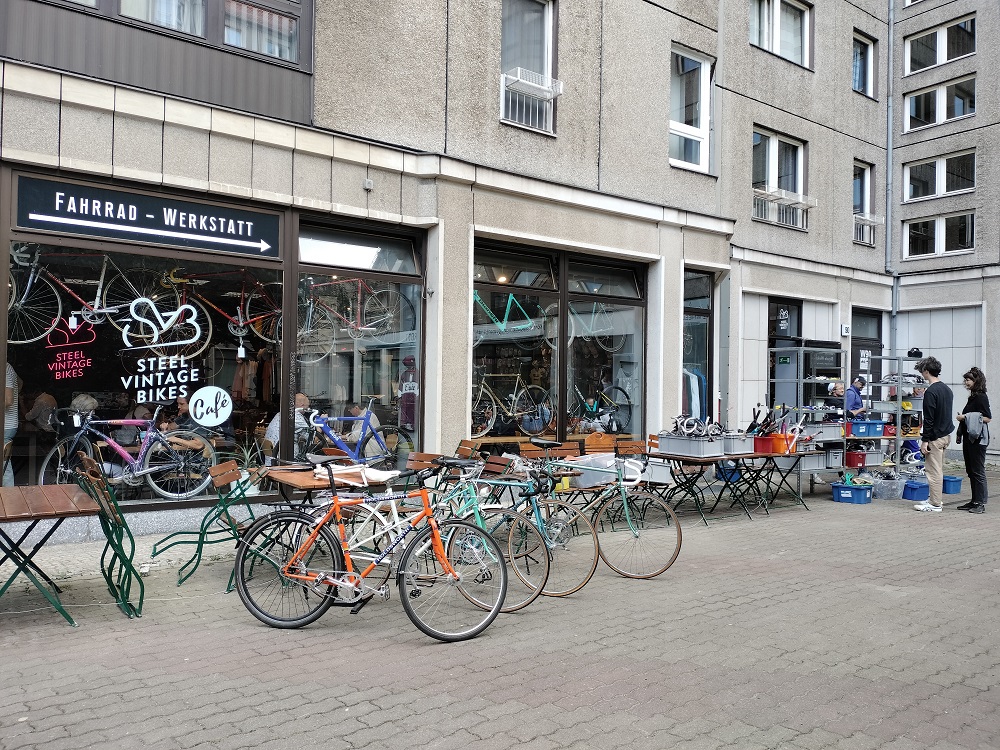 Another 2nd shop-restaurant-café
In the meantime, a 2nd (smaller) shop-restaurant-café has also been opened, also in the center of Berlin. Also here beautiful bicycles on the walls as well as all kinds of parts. You can also go here for a small repair or maintenance of your racing bike.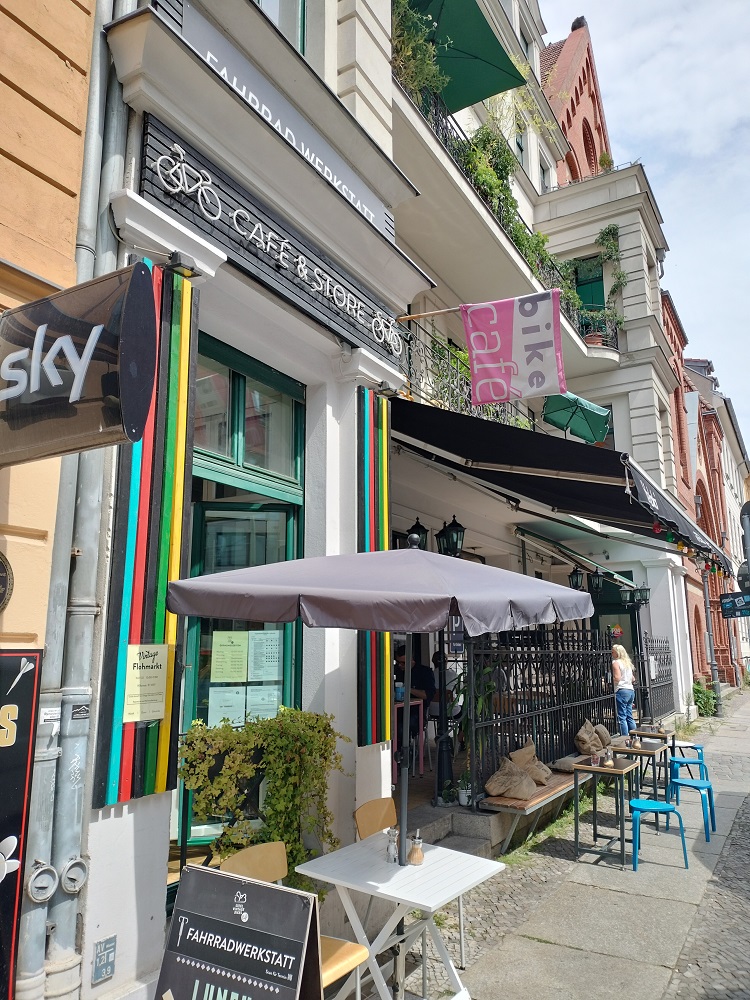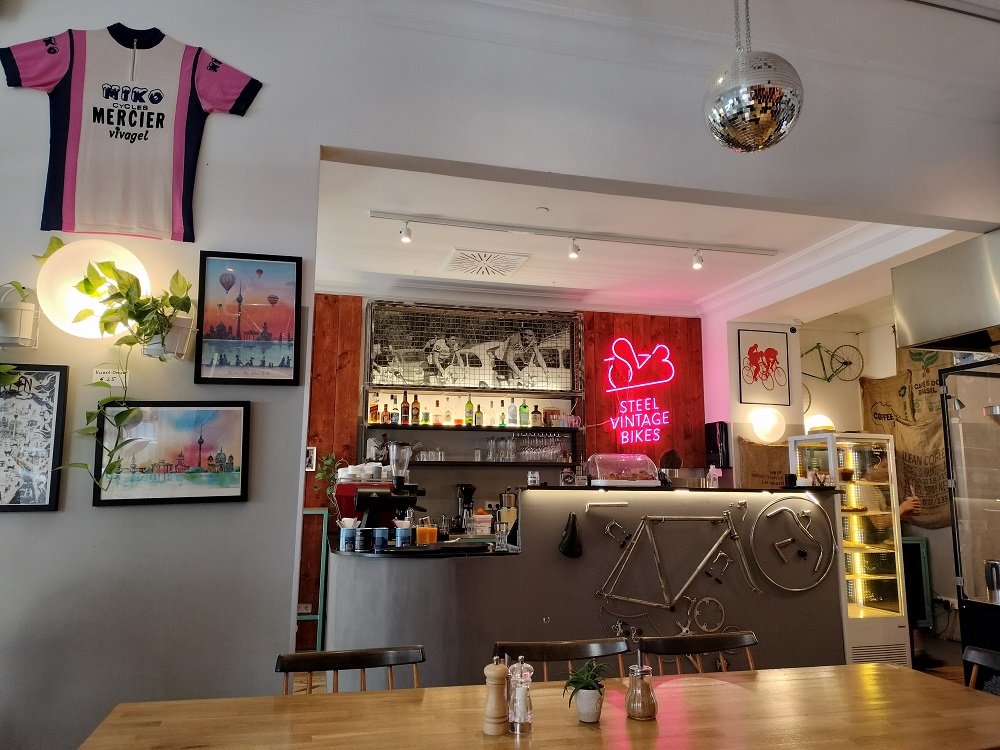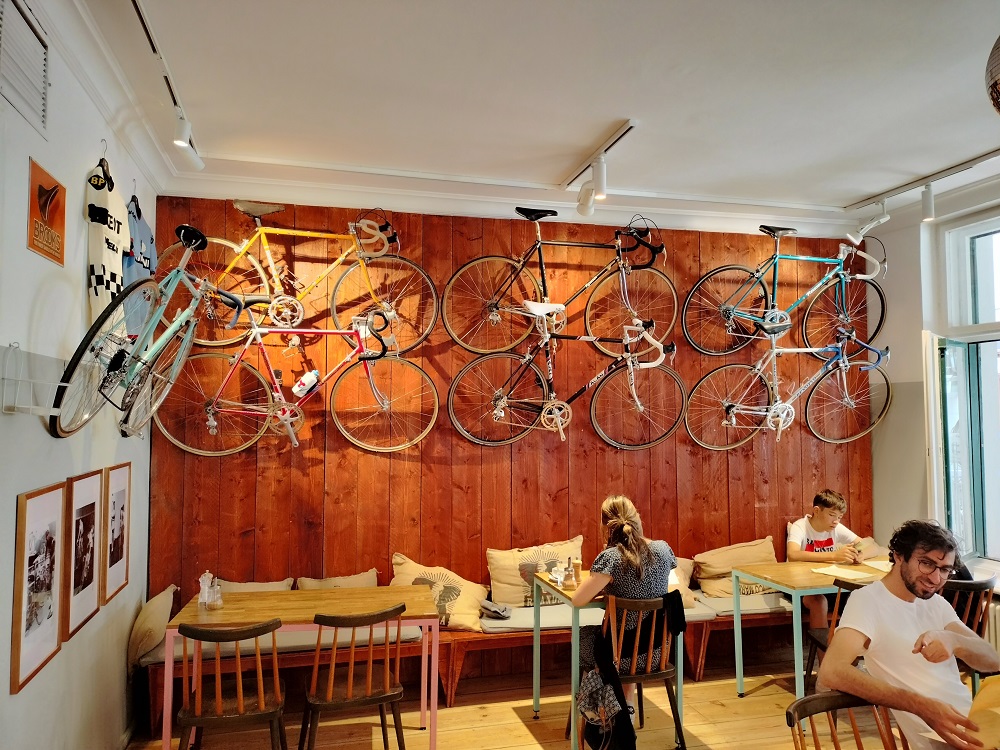 Below you will find the addresses of both as well as some photos
Wilhelmstrasse 91 – 10117 Berlin
Augustrasse 91 – 10117 Berlin
More info about Steel Vintage Bikes can be found on their website steel-vintage.com