In our series of vintage bicycles in the spotlight this time we have Patrick Anthone who tells us about his Carillo. Patrick is an avid cyclist and the proud owner of a modern carbon Ridley with which he rides about 150 kilometers every week. Rain or sun, like a real Flandrien, it doesn't really matter to him.
Since a few years, Patrick has also had a taste for the vintage steel racing bikes and after a few rides on his best friend's steel Venturelli, he bought himself a steel one in 2016: a turquoise Carillo.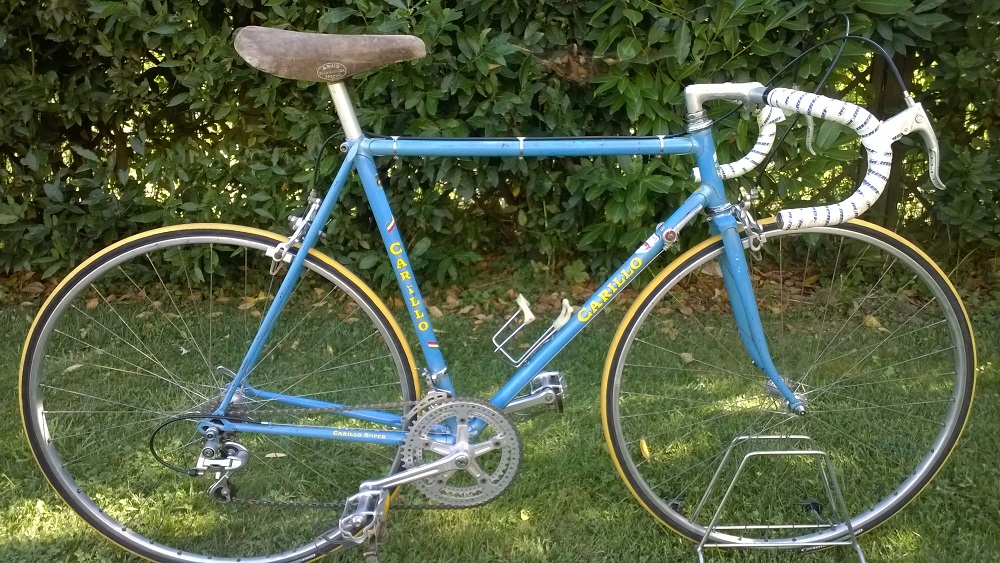 Initially he thought it was an Italian bike because there are Italian flags with made in Italy on the decals, but there is a good chance that it is a so-called bastard Italian. In other words, a bicycle made or assembled in Belgium but with an Italian sounding name as a commercial move (more information about Belgian bicycle brands with an Italian sounding name).
With his Carillo, he participated in the 2016 edition of the retro cycling event Eroica in Gaiole in Chianti, Italy and both Patrick and the bike survived the full 209km distance. A new participation was also on the program in 2020, but the Covid 19 pandemic decided otherwise.
One remark anyway: Patrick loves the blissful feeling when riding his steel bike, the folklore that belongs to retro events such as Eroica or the retro tour of Flanders appeal to him much less. "Let me just grind miles without all that spectacle"
Patrick's Carillo probably dates from the late 1970s. Some indications for this are the Galli brakes and the crankset. The Shimano RSX derailleur points to a later addition, presumably in the early 90s.
Especially notice the beautifully perforated crankset from the Japanese manufacturer Sakae Ringo. To restore the Carillo to its former glory, Patrick wants to replace the white bar tape with a yellow one and replace the more recent derailleur with an older model. Below is an overview of all parts:
Brakes: Galli GG76
Crankset: Sakae Ringo Apex Super Light
Stem, handlebar, pedals and seatpost: Sakae Ringo Custom SR Road Champion
Saddle: Arius Gran Carrera Special
Front derailleur and shifters Shimano 50, EC-100
Hubs: Shimano 600
Rear derailleur: Shimano RSX