The bike that is in the spotlight this time is special to me: because it is a racing bike from ex-pro cyclist Tom Desmet and it is the 1st racing bike in my collection that once belonged to a professional team.

The cycling team Collstrop Lystex rode in 1995 on bicycles of the Diamant brand. The team included Ludo Dierckxsens, Jo Planckaert, Nico Eeckhout, Frank Høj, Guy Nulens, Wim Omloop, Gert Jan Theunisse, Adrie Van Der Poel, Eric Van Lancker and thus Tom Desmet.
Sports director at the time was Willy Teirlinck and assistant sports director none other than Roger De Vlaeminck together with Jean-Marie Wampers.
What is immediately noticeable about the bike is the special upright chrome rear fork that only consists of 1 fork at the location of the saddle lug and not the traditional 2 pieces. The chrome-plated lugs and the beautiful paintwork typical of the 1990s are also immediately noticeable.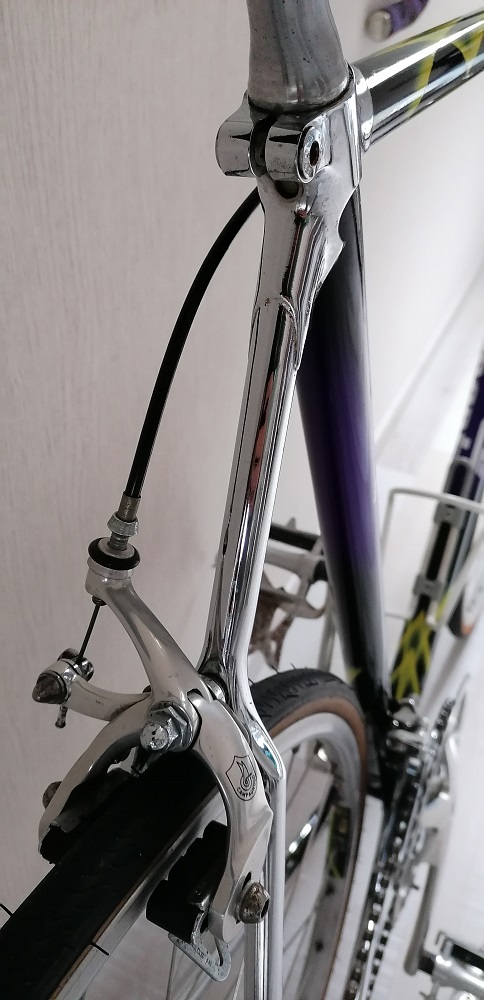 The bike had been in a garage for 20 years and you could see it clearly. Especially on the chrome there was a lot of flash rust that I luckily got off with a lot of patience, almost completely.
The bike is completely original, except for the classic pedals with straps, but these will soon be replaced by the appropriate time-correct version. After all, in 1995 the entire cycling peloton rode with clipless pedals, with a few exceptions that stuck to the old system and did not yet trust clipless pedals 100%.
The groupset that is on the bike is Campagnolo Chorus 8 speed, except for the rear derailleur which is Campagnolo Record.
The original tubes are also still there, although they are for the most part worn after all those years in the garage.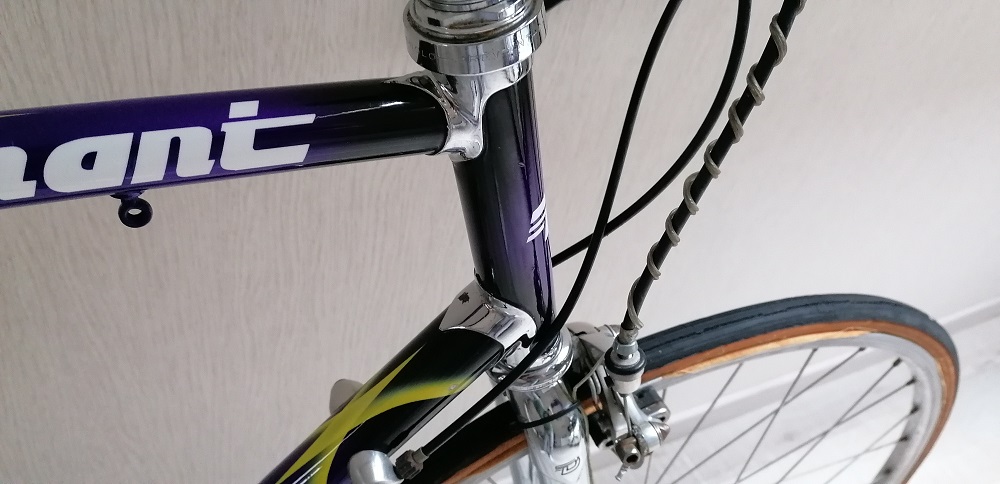 Below you can find the complete list of the components
Handlebar: Italmanubri
Stem: Italmanubri
Brakes: Campagnolo Chorus
Front derailleur: Campagnolo Chorus
Rear derailleur: Campagnolo Record
bottom bracket: Campagnolo Chorus
Saddle: San Marco Rolls
Seatpost: Campagnolo Chorus
Pedals
Rims: Alesia
Hubs Campagnolo Chorus
Headset Campagnolo Chorus
Below you can view some more photos of this beautiful piece of Belgian cycling heritage, presumably made by Eddy (Martelly) Martens on behalf of Cicli Diamanti (more information about this Belgian brand can be found on the following link Belgian racing bicycles: Cicli DIamanti)