When and who actually developed the first carbon road bike? If you look at the websites of the bicycle manufacturers listed below, it seems that all of them were first.
Here we give a chronological overview of what we have found
Raleigh – Carlton Flyer (1969)
This is the very first bike we've found that uses carbon for the first time. The bike was made in 1969 at the Carlton Cycles factory which was part of Raleigh in Great Britain. It is made up of carbon tubes that are fixed in aluminum lugs with glue and screws. So this bike can also be seen as revolutionary for the use of aluminum lugs. The bottom bracket itself is made of steel.
The bike, without pedals, weighs only 7.5kg and has six gears with 1 front sprocket. In total about 20 bicycles were made between 1969 and 1972, which were used by the British Cycle federation, among others.
Below you can see a video in which a former employee talks about the bicycle
Exxon Graftek (1975)
Graftek's first carbon bicycle was produced in 1975. It remains to be seen whether we can really speak of a carbon bicycle. Graftek's carbon tubes were actually a hybrid of aluminum and carbon fiber. The tubes were aluminum to which epoxy-impregnated prepreg carbon fibers were adhered at an angle of 10 to 15 ° in order to obtain maximum rigidity.
Dit bericht bekijken op Instagram

These carbon fibers were pressed onto the aluminum tube under tension and then placed in an oven to cure. After complete curing, they were wet sanded to obtain their smooth surface.
The lugs and dropouts were made of chromed steel as well as the front fork which was initially also wrapped with carbon fiber to give the same look.
Assos Track Bike (1976)
In 1976, Toni Maier's, SEO of the Swiss company Assos came up with an aerodynamic time trial bike made of carbon. The tubes are completely made of carbon and there are no connections (lugs) to be seen, but they are indeed there and even made of steel. After all, the connections are internal to the carbon tubes and are therefore not visible. The carbon tubes are glued to the joints.
Dit bericht bekijken op Instagram

The handlebars are located at the height of the front fork and according to Assos is the 1st bullock handlebar ever. Assos also claims they were the first to design a teardrop shape frame and use aerodynamic wheels, here in V shape with a width of just 16mm.
In 1978 Swiss rider Daniel Gisiger used the Assos time trial bike at the world track championships and got a lot of attention there because of the revolutionary bike. The bike can be admired in the headquarters of Assos Switzerland.
Dit bericht bekijken op Instagram
Alan (1976)
Italian bicycle manufacturer Alan, who is (presumably) the first to make aluminum alloy bicycle frames, also claims they were the first to use carbon tubes. In 1976, the Japanese company Toray Industries Inc asked Alan to produce a bicycle with their carbon tubes. Alan's engineers immediately started to work on the project and shortly afterwards the first carbon bicycle with aluminum connections was presented.
Vitus Carbon 3 (begin jaren 80′)
Just as Alan was developing a carbon racing bike, his biggest competitor, the French Vitus, was busy replacing its aluminum tubes with carbon tubes. It wasn't until the early 1980s that the Vitus Carbon 3 came onto the market, followed later by the Carbon 7 and Carbon 9 in 1986.
Dit bericht bekijken op Instagram
Colnago Concept (1986)
Colnago designs a carbon racing bike in collaboration with Enzo Ferrari in 1986. All connections are glued and the wheels are also made of carbon. Colnago claims that they are the first to design a bike where both the tubes and all connections are made of carbon, same as the front fork and maybe they are right about that.
The Colnago Concept also has a revolutionary gear and disc brakes, but the bike is not a success because it is too heavy and expensive to commercialize.
Look KG86 (1986)
The French Look designed a carbon bicycle with which Greg Lemond won the Tour de France in 1986. The bike's tubes consisted of Kevlar and woven carbon fibers that were glued into aluminum joints.
Dit bericht bekijken op Instagram
Giant Cadex (1987)
The Taiwanese giant Giant also launched its carbon road bike in 1987. Just like Vitus and Alan, it was a bicycle where the tubes were in carbon and the joints in aluminum. Giant does claim that they were the first to use computer-controlled programs for this as well as the mass-production of carbon bicycles (however with alu lugs and fork).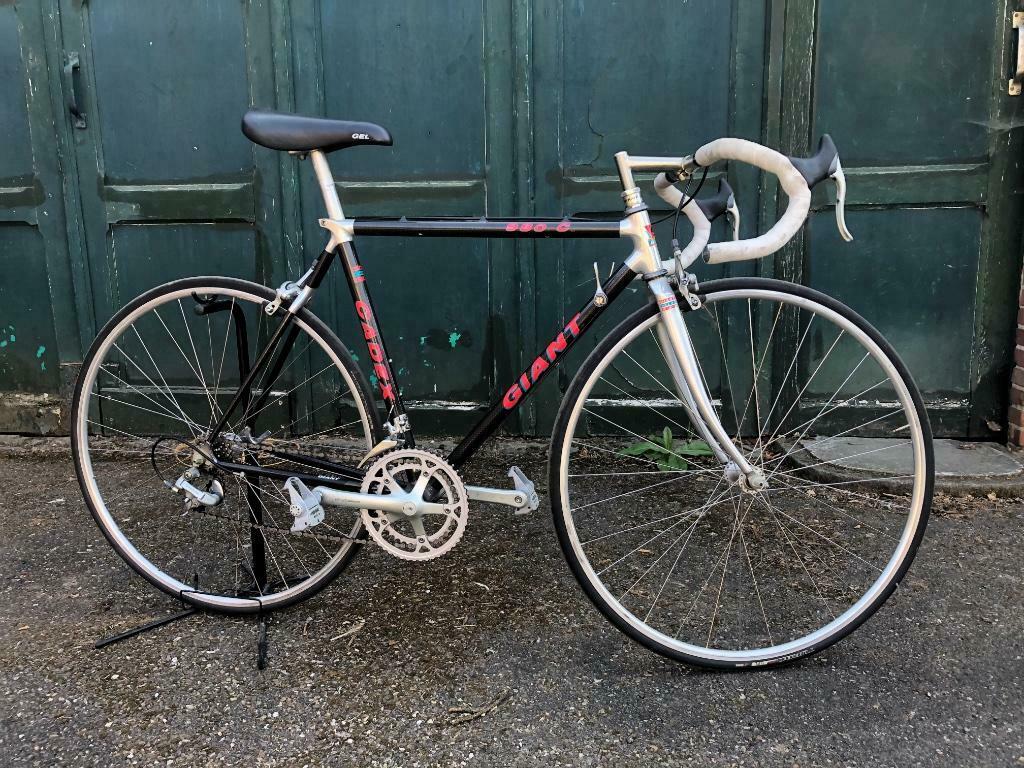 Kestrel 4000 (1987)
The Kestrel 4000 is a racing bike that consists of 1 piece of carbon (called monocoque), in other words: no connections are involved. This was the 1st time in history, in addition, the bike has an aerodynamic look, which still resembles the carbon bikes of today.
Dit bericht bekijken op Instagram
Trek 5000 (1989)
This road bike is widely regarded as the first carbon bike to be mass-produced. However, the bicycle had many flaws and therefore only produced for a short time.