The bicycle in the spotlight is an Italian pearl: a Daccordi Perla from the 2nd half of the 1990s. The bike is in excellent condition, as if it was never used. The lucky owner is Maarten Peters who has several vintage racing bikes in his collection.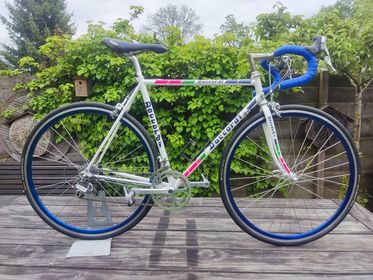 Daccordi is an Italian frame maker from San Miniato Basso near Pisa in beautiful Tuscany. Daccordi has been making bicycles since 1937 and sponsored several professional teams between 1988 and 2008. The first team they even sponsored was a Belgian team: Boccaccio Life – Fondua.
The model in the spotlight here is possibly the one used by the Colombian pro team Gaseosas Glacial – Selle Italia with Nelson Rodriguez riding.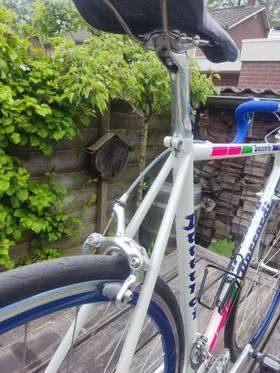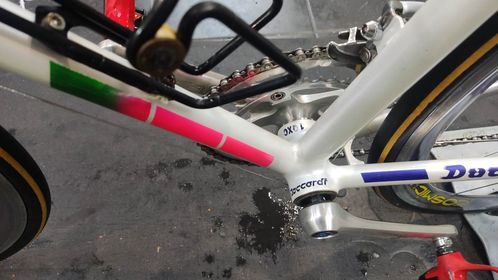 The Daccordi Perla is equipped with a Shimano Dura Ace series 7400 group, the best Shimano group on the market at the time. The frame is built with Columbus Neuron tubes, a high-quality tube specially developed for high-quality racing bikes.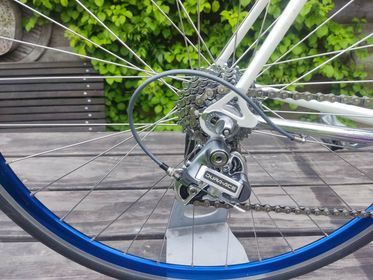 Below you will find the list of components
Components
frame: built with Columbus Neuron tubes
Shifters: Shimano Dura Ace 7400 serie
Brake calipers Shimano Dura Ace 7400 serie
Front Derailleur: Shimano Dura Ace 7400 serie
Rear derailleur: Shimano Dura Ace 7400 serie
Pedals Shimano Dura Ace 7400 serie
Stem: ITM
Handlebar: ITM
Quick release: Shimano Dura Ace 7400 serie
Saddle:
Wheels and hubs: Mavic Cosmic
Below you will find some more pictures of the Daccordi