In my still short career as a collector of vintage racing bicycles (since 2015) I have come across quite a few bicycles on retro markets, second-hand websites, in sales halls, with fellow collectors, etc. that bear the name of an old cyclist.
It is known that some brands were founded by former cyclists after their active career as a cyclist. Some have even become more famous for it than when they were professional cyclists. Just think of Pinarello, Cinelli, Paletti, Faggin, Olmo, Battaglin.
Pinarello is known worldwide as a bicycle brand, but how many know that Giovanni Pinarello was once a professional cyclist?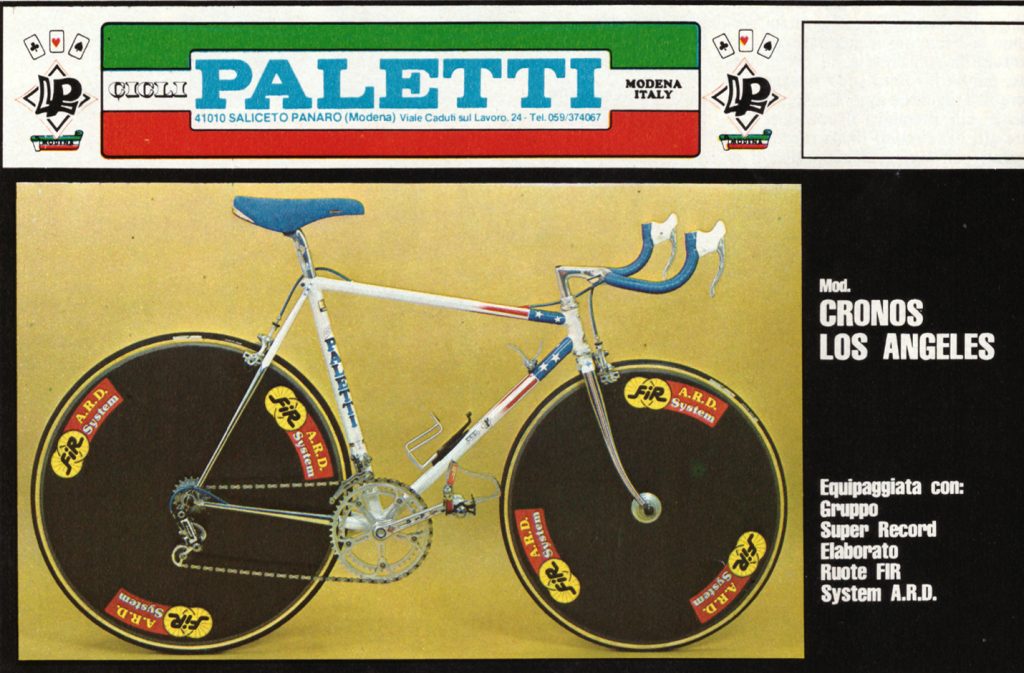 We can actually distinguish the racing bikes/frames with the name of a (former) cyclist in 3 categories:
The cyclist's name on the frame during the career, but the frame is not our own production
The name of the cyclist on the frame after his career and frame is not our own production
The name of the cyclist on the frame after his career, but the frame is our own production
The cyclist's name on the frame still during their career maar frame is geen eigen productie
Not many cyclists had the honor of riding a bicycle of a certain brand with their name on it during their career, this was only reserved for the greatest such as Eddy Merckx (Masi, De Rosa, Colnago, Kessels), Gino Bartali, Fausto Coppi, Louison Bobet, Rafael Geminiani, Jacques Anquetil, Rik Van Steenbergen and later Roger De Vlaeminck, Francesco Moser, Bernard Hinault and also Greg Lemond.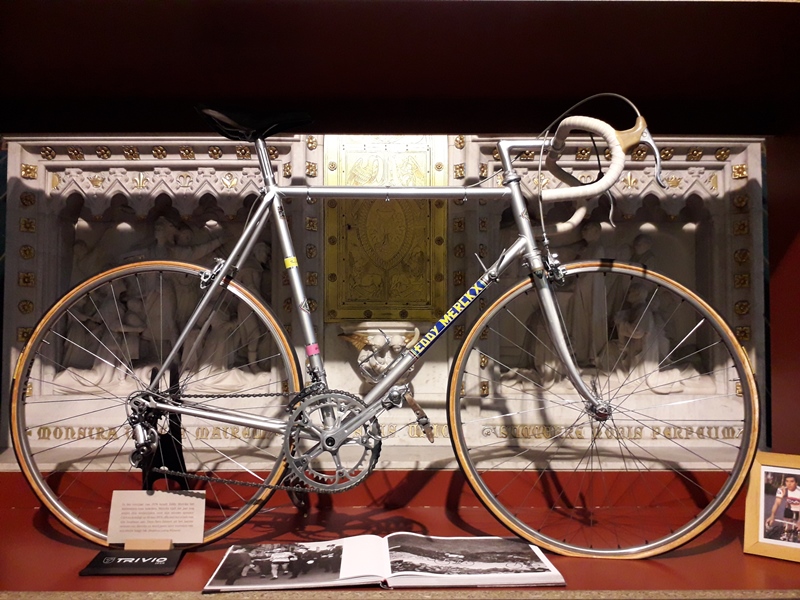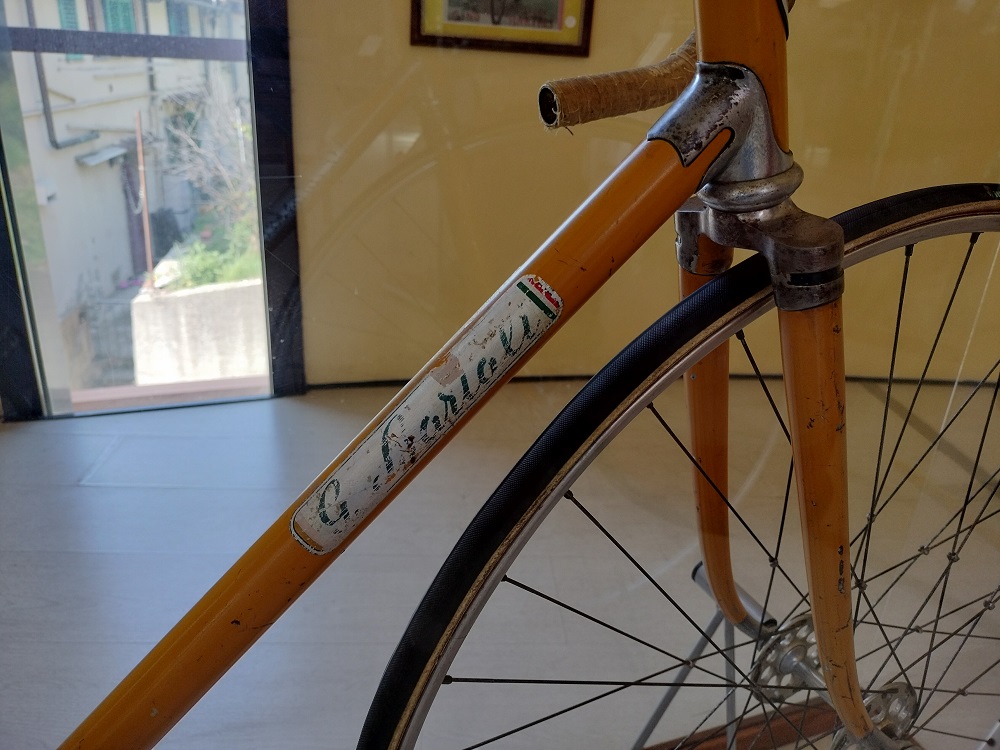 So only a few had their name on the frame during their career, but continued with it after their career, but then under their own production. Just think of Gino Bartali, Fausto Coppi, Eddy Merckx, Francesco Moser and Greg Lemond about which more later.
Many of those brands have since disappeared.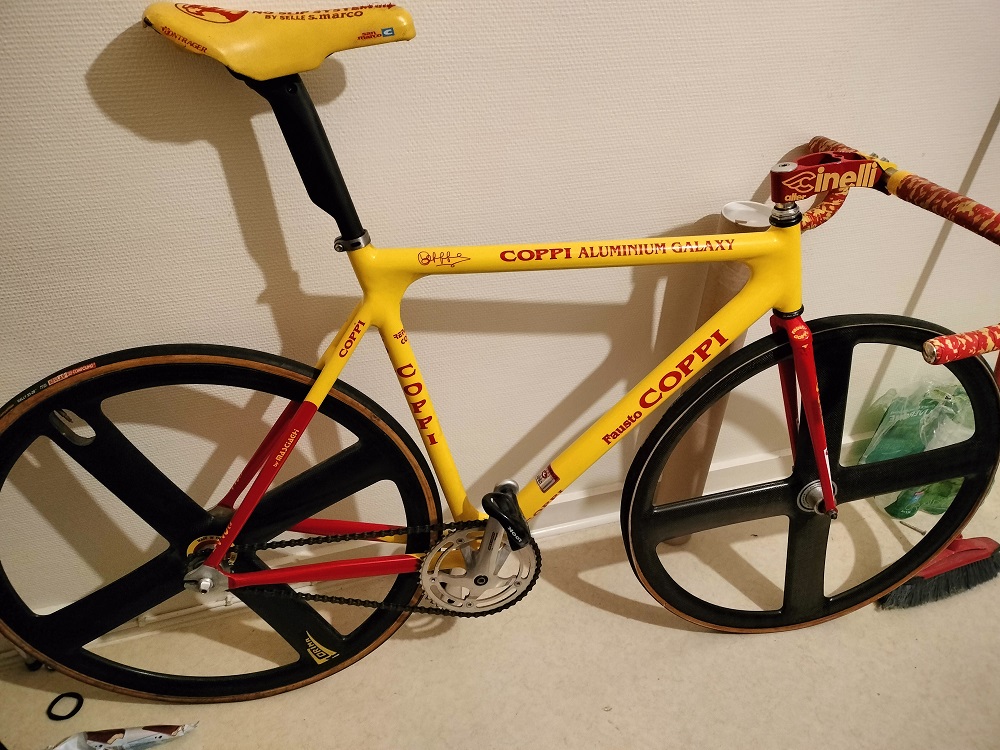 Eddy Merckx also lent his name to the bicycle manufacturers: Dangre – Starnord from Valenciennes and Falcon Cycles in England who marketed cheap bicycles with Eddy Merckx decals. Both children's bicycles, randonneurs, sporty bicycles and regular bicycles. Below you see a photo of a sporty women's bicycle.
Bicycle manufacturer after a career as a professional cyclist
Many riders have started producing bicycles under their own name after their career: Eddy Merckx, Jan Janssen, Gianni Motta, Bernard Hinault, Greg Lemond, Francesco Moser, Pinarello, Faggin, Cinelli, Paletti, Faggin, Olmo, Battaglin, and so forth.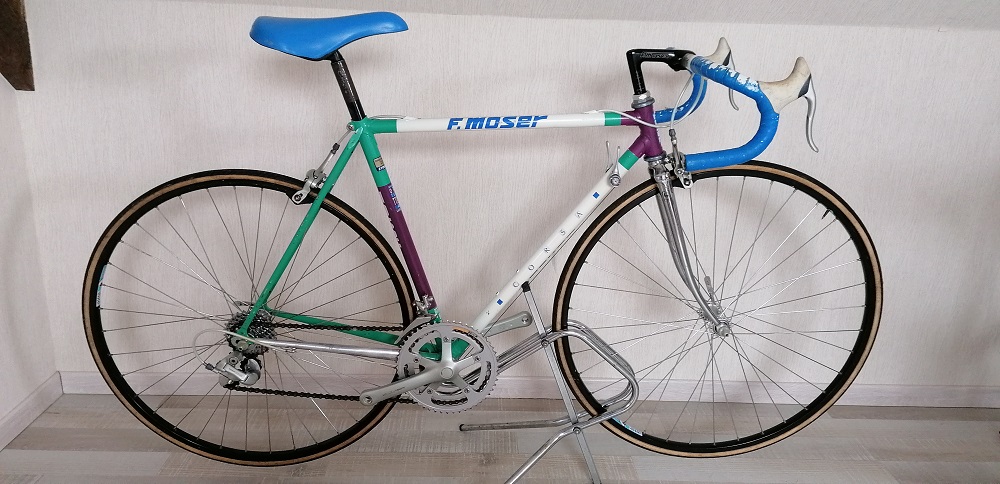 Few, however, still produce bicycles themselves. Eddy Merckx has left the business for some time and his bicycle company has not been taken over by Belgian Cycling Factory for very long.
Cicli Francesco Moser was also taken over in 2000 and Greg Lemond after the row with Lance Armstrong and Trek that put him out of business, now produces bicycles under the name Lemond, but there are no road bikes for the time being
In Belgium there are also David Sport, Van Hauwaert and Vanheste, although the latter is a sticker brand, but they are all the success of an ex-cyclist who started a bicycle shop after his career.
Until recently there was also the Belgian brand Fangio from Guido Reybrouck, another successful cyclist, but this brand now also belongs to the long list of former cyclists who once produced bicycles after their career.
Also in modern cycling there are some former professional cyclists who start producing bicycles after their career. We already had Eddy Merckx, Jan Janssen, Maurizio Fondriest, Chris Boardman, Mario Cipollini and Johan Museeuw did the same. Once the bicycle was on the hook, they started producing racing bicycles. The first three with success because these brands still exist.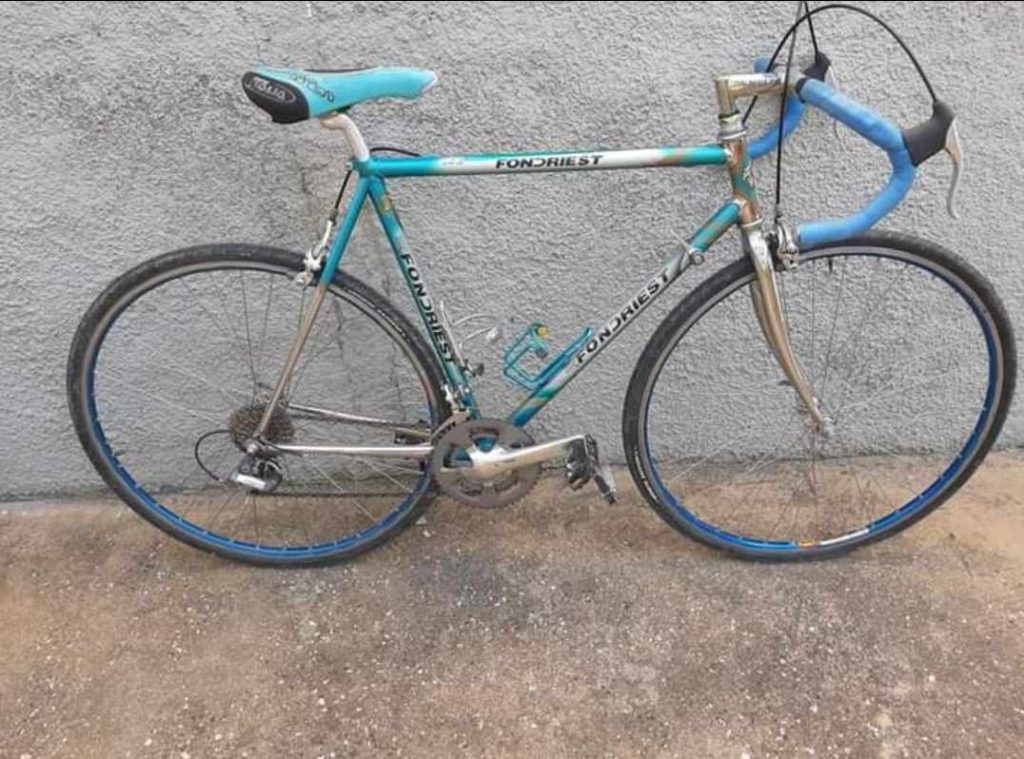 The name of the cyclist on the frame after his career and frame is not our own production
It happened more often that a brand marketed a bicycle bearing the name of a cyclist, but then after his career.
Colnage for Rik Van Looy, Roger De Vlaeminck and Giuseppe Saronni.
Just think of Colnago, which produced bicycles in the mid-1970s with decals by Rik Van Looy, or in 1980 equipped bicycles for the Boule d'Or – Colnago team with decals by Roger De Vlaeminck.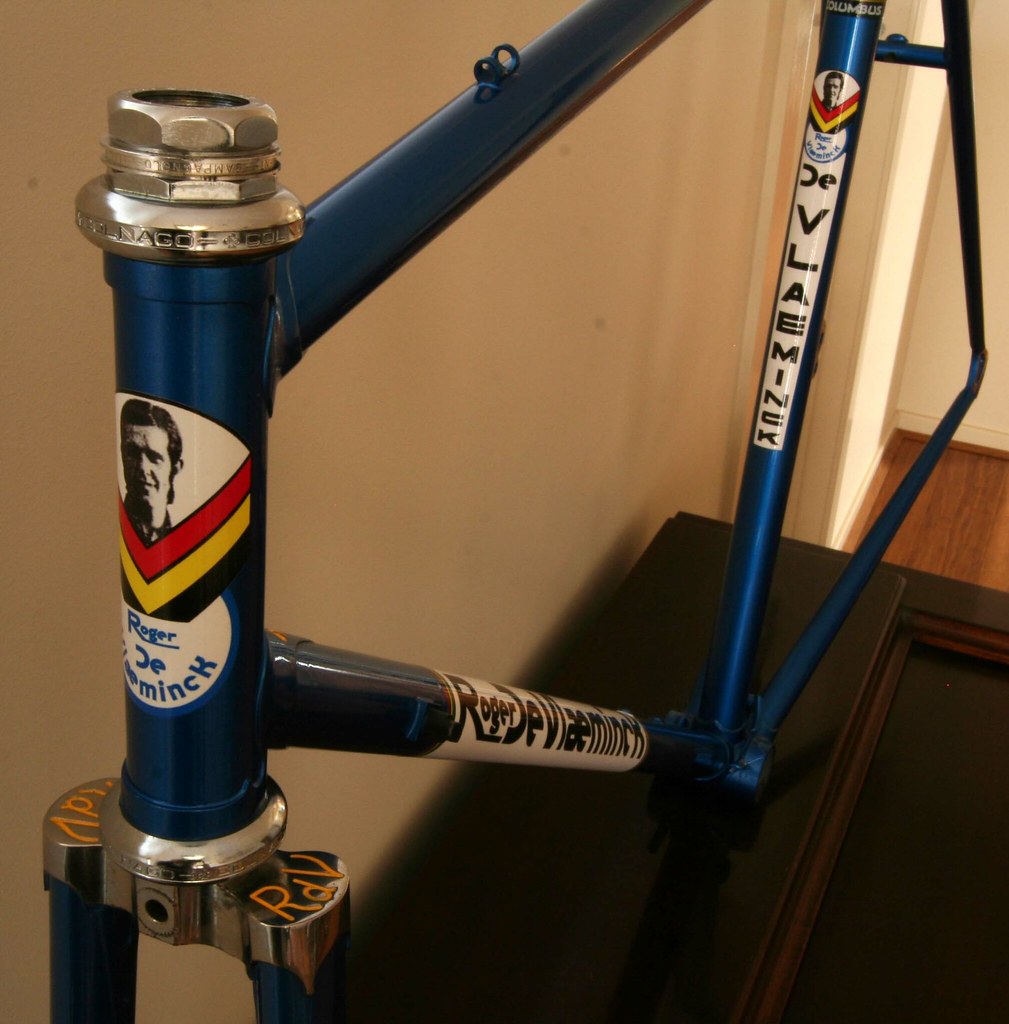 Roger drove for this team himself and therefore actually belongs to the above category with the difference that not only he rode a Colnago with Roger De Vlaeminck decals, but also his teammates. They did this again for the Eurobouw - Cambio Rino team in 1980, with Saronni decorating the Colnago's pipes
Flandria
In the late 1970s, Flandria also marketed bicycles with decals by Freddy Maertens, Michel Pollentier and Marc de Meyer, when this golden trio was at the peak of their career.
Michel Pollentier
Michel Pollentier even went one step further and lent his name to bicycle repairman Freddy Heydens who made the bicycles for the cyclo-cross team Kendall Oils – Dewulf (1981 and 1982) and Fina Oils – Dewulf (1983 and 1984).
After his successful period at Flandria, Michel Pollentier signed a contract with Splendor, and his name was also printed on these bicycles.
Michel Pollentier himself ended his career in 1984 with the cycling team Safir – Van de Ven who rode bikes on Colnago bikes.
The list of former cyclists who once lent their name to manufacturers who made frames or bicycles with their name on them, but have now disappeared, is therefore very large. Most of these were adhesive labels, which means that there were only decals with the name of the rider in question.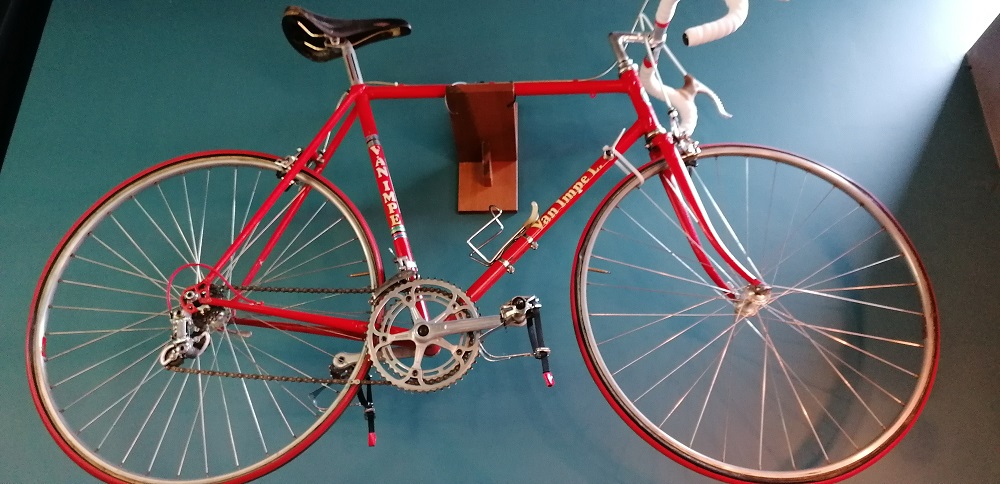 Below we have drawn up a (non-finite) list, suggestions are always welcome because there are certainly missing.
Bernard Hinault
Jean Stablinsky
Luis Ocana
Jacques Anquetil
Eric Vanderaerden
Bahamontes
Marcel Kint
Freddy Maertens
Richard Depoorter
Richard Virenque
Claude Criquielion
Girardengo
Roger De Vlaeminck (La Gitane)
Lucien Van Impe
Hieronder nog enkele foto's. Heb je zelf een fiets met een decal van een ex wielrenner stuur ze mij dan gerust door